Tamworth: Small-town feel with major city perks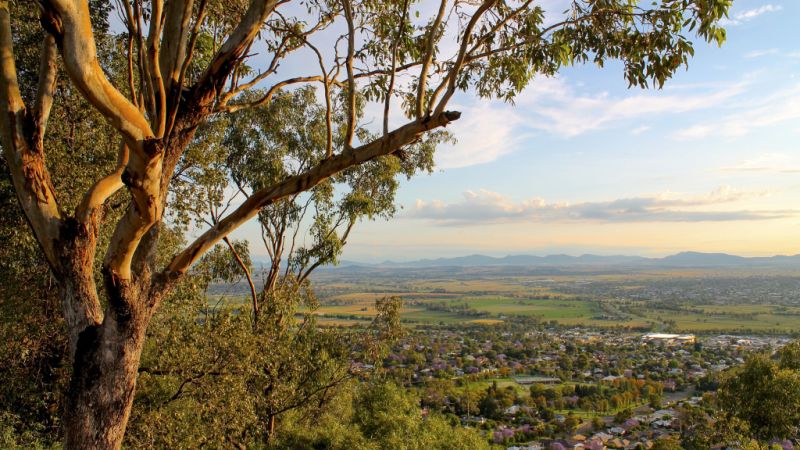 Tamworth: Small-town feel with major city perks,"I'm proud of how our community is diversifying, with many cultures now contributing to its fabric, yet never losing touch with its country hospitality."
Tamworth: Small-town feel with major city perks
Whether you are a city slicker seeking a tree change, a growing family looking for more space, or an older couple ready to retire, Tamworth may just be the answer. Nestled in the heart of the NSW countryside, this thriving regional city is home to sprawling green fields, rolling hills, and wide open spaces that stretch as far as the eye can see.
Ticking all the boxes required to live a comfortable and fulfilling life, Tamworth offers every modern convenience, minus the high-rises and hubbub, from top-notch schools, hospitals, and sporting facilities, to charming cafes and boutique stores. 
And it continues to evolve, with exciting plans penned for its future, like new residential and industrial subdivisions, and upcoming direct flights to Melbourne, in addition to its current daily flights to Sydney and Brisbane.
Glenda Douglas, agent at Ray White Tamworth, has been enjoying this rural recipe for over 43 years, happily enjoying a small-town feel with major city perks where her family has thrived. In fact, both of her children have gone on to represent their country in sports and have great jobs in Tamworth – one owns the local Crossfit gym and the other works as a supervisor at the Oncology Centre.
"We have a very forward-thinking council that has focused heavily on the future growth of our infrastructure, making our city appealing to people of all demographics," Douglas says. "There are families who have lived here their entire lives, doctors who fly in and out for work who eventually buy locally, and young couples looking for a change of scenery, bringing their city jobs with them."
"Having grown up in Tamworth, I can confidently say that it's the local businesses and people who make it such a wonderful place to live," says Eliza Fagan, co-owner of Designer Bunches, a florist in the heart of town. "I'm proud of how our community is diversifying, with many cultures now contributing to its fabric, yet never losing touch with its country hospitality."
Eat & Drink
Be it your daily dose of caffeine, a weekend serving of smashed avocado on toast, or a reservation for a special occasion, Tamworth delivers on all fronts. Head to Camp Grounds cafe for excellent coffee and Sonny's Bakery for delectable pastries, and if you want to try some of the best barbecue in town, go to The Pig & Tinder Box, housed in a heritage-listed former bank building. For something a little more fancy, take a trip to Goonoo Goonoo Station, home to the award-winning Glasshouse Restaurant, serving both hearty meals and sweeping views.
See & Do
While Tamworth is known as "the country music capital" of Australia, home to the Big Golden Guitar and host of the annual Country Music Festival, there's much more to explore, beginning with its great outdoors. Hike or bike through the beautiful countryside or enjoy the peaceful pockets of Anzac Park and the Tamworth Botanic Gardens. If you're up for a bit of a day adventure, drive south to Nundle to experience the magic of the Pine Forest or head north to Barraba to admire the murals of the ​​Barraba Silo Art.
Related News & Content
Are liquid biopsies better alternative for cancer diagnosis? – comment

Are liquid biopsies better alternative for cancer diagnosis? - comment,Biopsies are taken to establish an initial diagnosis, seeking to determine whether or not the patient has cancer at all – and if so, how advanced it is.

Tags: Assuta Health Cancer cancer treatment Health health wellness jpost.com The Jerusalem Post | JPost.com

Why is this galaxy all alone? It absorbed all its neighbors – study

Why is this galaxy all alone? It absorbed all its neighbors - study,Quasar galaxy 3C 297 is all alone in space, but from what we know, it should be within a galaxy cluster. How did this happen? It seemingly ate all of them.

Tags: Galaxy jpost.com Milky way science scientific study Space The Jerusalem Post | JPost.com

Healthy pets can transmit dangerous microbes to humans and vice versa

Healthy pets can transmit dangerous microbes to humans and vice versa,Curious whether cats and dogs play a role in the infection of hospital patients with multidrug-resistant organisms, researchers examined over 2,800 hospital patients and their furry friends. 

Tags: Animals Assuta Health health wellness illness jpost.com scientific study The Jerusalem Post | JPost.com

Israel wasted millions on development of COVID vaccine – comptroller

Israel wasted millions on development of COVID vaccine - comptroller,Netanyahu wasted a huge amount of money on developing an Israeli COVID vaccine at a lab unsuited for the job – and it failed anyway.

Tags: Coronavirus Coronavirus Vaccine jpost.com Ness Ziona science State Comptroller The Jerusalem Post | JPost.com Vaccine

Five high-protein nuts you should add to your menu

Five high-protein nuts you should add to your menu,Nuts are definitely one of the healthiest snacks available. True, they have many calories, yet they also contain important nutritional components and a substantial amount of plant protein.

Tags: Food Health jpost.com Nutrition Protein The Jerusalem Post | JPost.com

This small addition to your diet can help prevent breast cancer

This small addition to your diet can help prevent breast cancer,Many studies have shown that the foods in the Mediterranean diet are the best ones to eat to help prevent various health problems, and some have shown the opposite.

Tags: breast cancer Cancer Food Health jpost.com Mediterranean Diet Nutrition The Jerusalem Post | JPost.com

NASA unveils spacesuit astronauts will wear for Artemis III moon mission

NASA unveils spacesuit astronauts will wear for Artemis III moon mission,The new design has a different look than the famous puffy white suits worn by moonwalkers of the 20th century. Rather, Axiom's prototype looked black with blue and orange detailing

Tags: jpost.com moon landing NASA science Space The Jerusalem Post | JPost.com the moon

Great apes spin around to get themselves high – study

Great apes spin around to get themselves high - study,Throughout human history, people have always sought ways to achieve an altered state of mind by getting high. It seems great apes may have done this too.

Tags: Animals gorilla jpost.com science scientific study The Jerusalem Post | JPost.com

Leonardo da Vinci's heritage may have been unlocked by new document

Leonardo da Vinci's heritage may have been unlocked by new document,A professor from the University of Naples has found that da Vinci's mother may have been a freed enslaved woman.

Tags: Archaeology history Italy jpost.com Leonardo da Vinci The Jerusalem Post | JPost.com

Football club co-owner lists Mosman's Victorian Gothic mansion Allowah

Football club co-owner lists Mosman's Victorian Gothic mansion Allowah,WSW co-owner Glenn Duncan is selling what is billed one of Mosman's oldest homes as former Macquarie Media boss Russell Tate lists one of the suburb's largest apartments.

Tags: domain domain.com.au elementProperty Widget elementRelated Articles Metros NSW On Market title deeds

Last-gasp bid via Alaska nets $1.7 million Perth home

Last-gasp bid via Alaska nets $1.7 million Perth home,The buyer – on the phone to her husband overseas – was not registered for the auction, but made a shock entry at the final moment.

Tags: Auctions domain domain.com.au elementProperty Widget elementRelated Articles Nine Wa

'Unloved' home in Victoria's holiday playground commands $2m

'Unloved' home in Victoria's holiday playground commands $2m,The waterfront property in Victoria's is going to auction after a period of abandonment, and could fetch up to $2 million.

Tags: domain domain.com.au elementProperty Widget elementRelated Articles Nine On Market VIC

'People tend to overlook it': The best value suburb within 10km of Sydney's CBD

'People tend to overlook it': The best value suburb within 10km of Sydney's CBD,Living close to the city centre isn't cheap, but in some pockets house hunters will get much better bang for their buck – even by moving one suburb over.

Tags: affordability domain domain.com.au elementProperty Widget elementRelated Articles House prices Metros NSW

'No one knows where it is': The best value suburb within 10km of Melbourne's CBD

'No one knows where it is': The best value suburb within 10km of Melbourne's CBD,It's a little known locale that covers less than a single square kilometre and is home to fewer than 2000 people, but it's starting to draw higher-end buyers.

Tags: affordability domain domain.com.au elementProperty Widget elementRelated Articles House prices Metros VIC

Aussie home of King Charles' great-grandfather on offer for $34 million

Aussie home of King Charles' great-grandfather on offer for $34 million,A mansion in Sydney where King Charles' great-grandfather lived is truly fit for royalty, valued at $34 million.

Tags: domain domain.com.au elementProperty Widget elementRelated Articles Nine NSW On Market

Clovelly house sells for $3.63 million to last-minute buyer

Clovelly house sells for $3.63 million to last-minute buyer,The man arrived at the auction late, before outbidding first home buyers and investors with a single offer.

Tags: Auctions domain domain.com.au elementProperty Widget elementRelated Articles Metros

Vendor of a trendy Brisbane property skates to a $6.4m win at auction

Vendor of a trendy Brisbane property skates to a $6.4m win at auction,A luxurious Brisbane property with an indoor skateboard ramp room has rolled off the market.

Tags: Auctions domain domain.com.au elementProperty Widget elementRelated Articles Nine

Investors spend $2.2 million on Glen Iris house they plan to knock down

Investors spend $2.2 million on Glen Iris house they plan to knock down,The period house attracted four bidders at auction this weekend and its new owners, who spent more than $500,000 over the reserve, plan to demolish it and build townhouses.

Tags: Auctions domain domain.com.au elementProperty Widget elementRelated Articles Metros

Rich flippers: The who's who defying the property downturn

Rich flippers: The who's who defying the property downturn,Lending weight to the adage that it takes money to make money, some of Sydney's well-heeled citizenry have made a motza flipping their real estate.

Tags: domain domain.com.au elementProperty Widget elementRelated Articles Metros NSW On Market title deeds

Six first home buyers fight for $1.33m Alexandria two-bedder

Six first home buyers fight for $1.33m Alexandria two-bedder,The bidders were all aged 20-30 and most had their parents along for support. Bidding opened at $1 million.

Tags: Auctions domain domain.com.au elementProperty Widget elementRelated Articles Metros

Good news for first-home buyers: The time it takes to save for a house deposit in Australia has plummeted

Good news for first-home buyers: The time it takes to save for a house deposit in Australia has plummeted,It's a story of the stars aligning – at last – for first-home buyers.

Tags: affordability Data domain domain.com.au elementContent Table elementDLF Calculators elementRelated Articles first home buyers Interest Rates national

This suburban house has something in common with the MCG

This suburban house has something in common with the MCG,As the 2023 AFL season launches, a Perth property with its own goal posts in the garden has torpedoed onto the market.

Tags: domain domain.com.au elementProperty Widget elementRelated Articles Nine On Market Wa

Spend $3.6 million on a Mercedes-AMG G63, get a free house in Melbourne

Spend $3.6 million on a Mercedes-AMG G63, get a free house in Melbourne,Looking for a Mercedes-AMG G63 and got a spare $3.6 million? One seller is offering the G-Wagon with a free house.

Tags: amg domain Drive drive.com.au Melbourne mercedes amg mercedes amg g63 Mercedes Benz Mercedes Benz G Class News property Victoria

Middle Park: This bougie beachfront 'burb is 'like a country town close to the city'

Middle Park: This bougie beachfront 'burb is 'like a country town close to the city',"It looks pretty much as it would have 100 years ago."

Tags: domain domain.com.au elementProperty Widget elementRelated Articles magazines neighbourhoods VIC

The best homes for sale in Sydney right now

The best homes for sale in Sydney right now,Looking for your next home within Sydney? We've got you covered.

Tags: domain domain.com.au elementProperty Widget elementRelated Articles magazines NSW On Market

Beach life on a budget: Six Victorian beach houses for sale for under $600,000

Beach life on a budget: Six Victorian beach houses for sale for under $600,000,Looking for a beach house for under $600,000? Bargain hunters can find a fixer-upper, first home or sea-change pad for less.

Tags: domain domain.com.au elementProperty Widget Metros national On Market

When the property market could reach a tipping point

When the property market could reach a tipping point,The house price downturn has started to show signs of stabilising, but prices could start to drop again if a key threshold is reached.

Tags: domain domain.com.au elementRelated Articles House prices Interest Rates Metros national

South Yarra pad sells after passing in for less than last year's price

South Yarra pad sells after passing in for less than last year's price,The auctioneer told the crowd the top bid was 10 per cent less than the home would have cost a year ago. It sold after the auction for $1.8 million.

Tags: Auctions domain domain.com.au elementProperty Widget elementRelated Articles Metros national

Owner calls on 'rock stars and entrepreneurs' for $8.5m trophy home

Owner calls on 'rock stars and entrepreneurs' for $8.5m trophy home,Owner hoping to sell a 14-bedroom trophy mansion on the Gold Coast is calling on 'rock stars, celebrities and entrepreneurs'.

Tags: domain domain.com.au elementProperty Widget elementRelated Articles Nine On Market QLD

First home buyer picks up Double Bay unit for $721,000

First home buyer picks up Double Bay unit for $721,000,The successful first home buyer was an Aussie expat in Singapore who outbid more than a dozen others, including other first home buyers and investors.

Tags: Auctions domain domain.com.au elementProperty Widget Metros national

F45's Adam Gilchrist lists gutted North Coast house for $5 million

F45's Adam Gilchrist lists gutted North Coast house for $5 million,The commercial development site on the main drag of Lennox Head is the latest of the F45 co-founder's properties to hit the market, and it could soon look very different.

Tags: Celebrity domain domain.com.au elementProperty Widget elementRelated Articles Metros NSW On Market title deeds

Southport, Tasmania: The southernmost township in Australia, where you can buy oceanfront property for $425,000

Southport, Tasmania: The southernmost township in Australia, where you can buy oceanfront property for $425,000,The next pub south? Antarctica.

Tags: affordability Data domain domain.com.au elementCTA Driver elementProperty Widget elementRelated Articles House prices national neighbourhoods rural

Ocean Grove: Attica's Ben Shewry brings his mates to this town for their hot pies

Ocean Grove: Attica's Ben Shewry brings his mates to this town for their hot pies,Rolling Pin Pies \u0026amp; Cakes is the unassuming setting for cult-worthy pies.

Tags: domain domain.com.au elementProperty Widget elementRelated Articles magazines neighbourhoods VIC

Paspaley pearl family buys Paddington hidden gem for $8 million

Paspaley pearl family buys Paddington hidden gem for $8 million,Christine Bracher downsizes to the back streets of Paddington; the Belgiorno-Nettis family trade into Tamarama for $9 million; and one of the Liquorland co-founders lists in Hunters Hill.

Tags: Celebrity domain domain.com.au elementProperty Widget national title deeds

The 8 best luxury homes on the market right now

The 8 best luxury homes on the market right now,Whether you're looking for a high-end inner-city abode or an estate in the countryside, there's something for everyone in this line-up of some of Australia's best prestige homes.

Tags: domain domain.com.au elementProperty Widget elementRelated Articles magazines On Market Prestige

The best homes for sale in Melbourne right now

The best homes for sale in Melbourne right now,Looking for your next home in Melbourne? We've got you covered.

Tags: domain domain.com.au elementProperty Widget elementRelated Articles magazines On Market VIC

Castlecrag: The suburb built by visionary architects Walter Burley Griffin and Marion Mahony Griffin

Castlecrag: The suburb built by visionary architects Walter Burley Griffin and Marion Mahony Griffin,The Griffins brought sensitive, landscape-appropriate design to Australia, preserving the natural topography and building unique homes, many now heritage-listed.

Tags: domain domain.com.au elementProperty Widget elementRelated Articles magazines neighbourhoods NSW

You'll be neighbours with a famous shipwreck at this $5 million address

You'll be neighbours with a famous shipwreck at this $5 million address,You could own a piece of paradise on Fraser Island with the purchase of a block of units that are in close proximity to a landmark attraction.

Tags: domain domain.com.au elementProperty Widget elementRelated Articles Nine On Market QLD

Young family drops $5.2 million on heritage Hunters Hill house

Young family drops $5.2 million on heritage Hunters Hill house,Three bidders made offers but the final stages of the race were between two young families keen on the stunning Victorian home with a modern renovation.

Tags: Auctions domain domain.com.au elementProperty Widget elementRelated Articles Metros NSW

The beer necessities: Sub-$700,000 cottage with a hidden bar

The beer necessities: Sub-$700,000 cottage with a hidden bar,There's no clue in the charming facade, but the buyer of this Victorian home won't have to travel far to get an ale on tap.

Tags: domain domain.com.au elementProperty Widget elementRelated Articles Metros On Market VIC

Pat McAfee reveals if he knows what Packers' Aaron Rodgers will do in 2023

Pat McAfee reveals if he knows what Packers' Aaron Rodgers will do in 2023,There are multiple reasons fans would assume Rodgers would give McAfee some inside information. But does McAfee actually know Rodgers' plans?

Denny Hamlin Goes Against Jeff Gordon as He Reveals What Hendrick Motorsports Were "Messing With"

Denny Hamlin Goes Against Jeff Gordon as He Reveals What Hendrick Motorsports Were "Messing With",Denny Hamlin discusses why he feels Hendrick Motorsports might actually be in trouble with respect to their recently confiscated parts.

Three ways moving on from Aaron Rodgers impacts Packers

Three ways moving on from Aaron Rodgers impacts Packers,Moving on from a franchise quarterback is a challenging situation for any NFL team. Here are three ways the Packers will be impacted if Rodgers has indeed played his last game as a member of the

DOH warns vs eating seafood from oil spill areas

DOH warns vs eating seafood from oil spill areas,The Department of Health warned the public yesterday against eating fish and other seafood from areas affected by the oil spill. The post DOH warns vs eating seafood from oil spill areas appeared first

Inside 'world's best airport' with trampolines, waterfalls and a huge indoor jungle

Inside 'world's best airport' with trampolines, waterfalls and a huge indoor jungle,The world's coolest airport has officially been named and it offers a completely unique customer experience with an indoor rainforest and the tallest slide in an

'Smile' viral marketing campaign freaked out MLB fans with creepy grins in the stands

'Smile' viral marketing campaign freaked out MLB fans with creepy grins in the stands,Getting paid to smile doesn't sound like such a bad gig, eh? We guess it's not — until you read the fine print and learn you've gotta do it in the most public of pl

Jason Reitman Made Sure Ernie Hudson's Winston Gets His Due In Ghostbusters: Afterlife 2 – Exclusive

Jason Reitman Made Sure Ernie Hudson's Winston Gets His Due In Ghostbusters: Afterlife 2 - Exclusive,Ernie Hudson shared that Winston will get the respect he deserves in "Ghostbusters: Afterlife 2," according to his conversation with direct

Washington turns to Wall Street to help rescue dying bank

Washington turns to Wall Street to help rescue dying bank,In a scene reminiscent of the last financial crisis, the federal government turned to Wall Street this week for help with a blossoming emergency in the banking sector

3D printed nano optical security labels to identify counterfeit products

3D printed nano optical security labels to identify counterfeit products,Researchers report a 3D printed optical security label with nano-sized features. It taps on ambient light sources and is harder to crack due to its 33(100) possible combinations.

Tags: biotech CleanTech nanotechnology Nanotechnology Spotlight nanowerk.com Robotics

3D-printed revolving devices can sense how they are moving

3D-printed revolving devices can sense how they are moving,A new system enables makers to incorporate sensors into gears and other rotational mechanisms with just one pass in a 3D printer.

Tags: biotech CleanTech nanotechnology Nanotechnology Spotlight nanowerk.com Robotics

Carbon nanotube films as ultrasensitive photodetectors: progress and challenges

Carbon nanotube films as ultrasensitive photodetectors: progress and challenges,A progress report outlines the current technology and challenges associated with developing s-SWCNT films into shortwave infrared photodetectors to spur additional research and applications of the technology.

Tags: biotech CleanTech nanotechnology Nanotechnology Spotlight nanowerk.com Robotics

Mix-and-match kit could enable astronauts to build a menagerie of lunar exploration bots (w/video)

Mix-and-match kit could enable astronauts to build a menagerie of lunar exploration bots (w/video),Robotic parts could be assembled into nimble spider bots for exploring lava tubes or heavy-duty elephant bots for transporting solar panels.

Tags: biotech CleanTech nanotechnology Nanotechnology Spotlight nanowerk.com Robotics

Cut-and-sew method could open pathways to designing 2D materials on demand

Cut-and-sew method could open pathways to designing 2D materials on demand,A new process that lets scientists chemically cut apart and stitch together nanoscopic layers of two-dimensional materials - like a tailor altering a suit - could be just the tool for designing the technology of a sustainable energy future.

Tags: biotech CleanTech nanotechnology Nanotechnology Spotlight nanowerk.com Robotics

For sports and physiotherapy alike: 3D-printed insoles measure sole pressure directly in the shoe

For sports and physiotherapy alike: 3D-printed insoles measure sole pressure directly in the shoe,Researchers are developing a 3D-printed insole with integrated sensors that allows the pressure of the sole to be measured in the shoe and thus during any activity. This helps athletes or patients to determine performance and therapy progress.

Tags: biotech CleanTech nanotechnology Nanotechnology Spotlight nanowerk.com Robotics

New machine learning approach enables to identify One molecule in a billion molecules selectively with graphene sensors

New machine learning approach enables to identify One molecule in a billion molecules selectively with graphene sensors,Researchers employed machine learning models trained on various gas adsorption-induced doping and scattering signals to realize both highly sensitive and selective gas sensing with a single device.

Tags: biotech CleanTech nanotechnology Nanotechnology Spotlight nanowerk.com Robotics