Album review: Dinosaur Jr. – Sweep It Into Space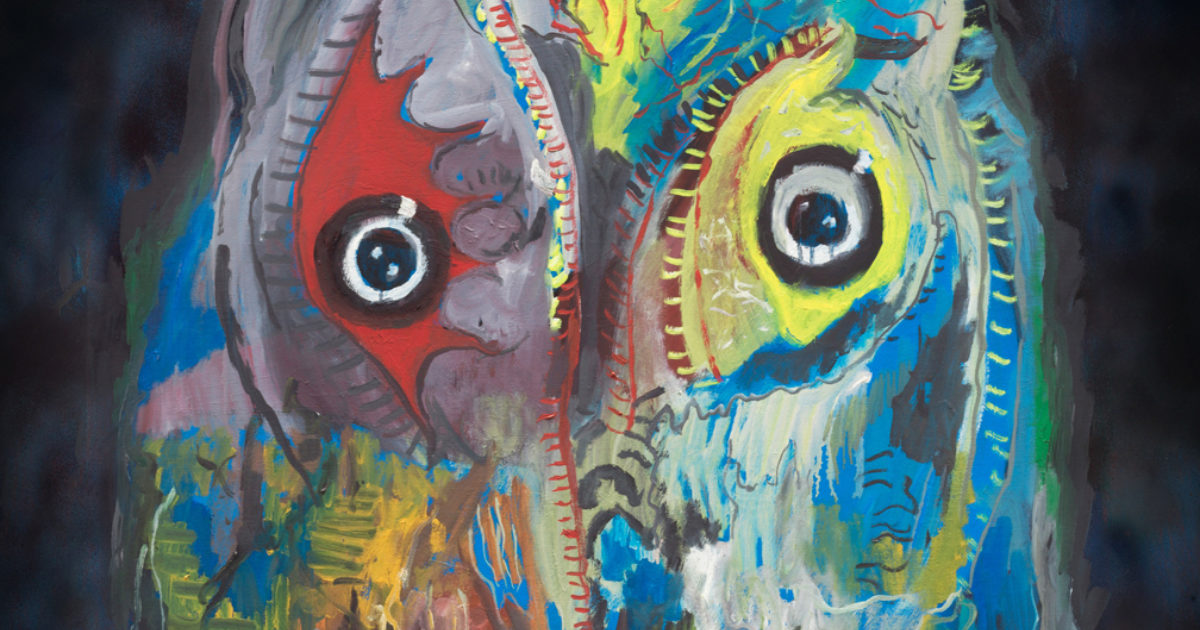 Album review: Dinosaur Jr. – Sweep It Into Space,U.S. alt.rock fuzzlords Dinosaur Jr. strike again with yet more elegant noise on Sweep It Into Space
Album review: Dinosaur Jr. – Sweep It Into Space
April 21, 2021Words:James Hickie
How long is a second wind supposed to last? Ask Dinosaur Jr.: 16 years on from their second coming, that hurricane of sound is still blowing strong and showing little sign of running out of puff. Like its predecessor, 2016's Give A Glimpse Of What Yer Not, Sweep It Into Space presents all the ingredients we've come to expect – heavy but hummable guitars, J Mascis' pinched vocals – but with even more honeyed morsels amidst the noise.
This album was co-produced by singer-songwriter Kurt Vile, whose own airy, atmospheric compositions suggest he's taken some cues from Dinosaur Jr. over the years, much like any alt.rocker with a desire to do more with a guitar than simply strum it. As a result, proceedings are affectionately framed and leave listeners in no doubt as to who's delivering the tunes. There's a greater degree of refinement and balance, though, with Hide Another Round and I Expect It Always possessing a breeziness that stops the combustion engine instruments from overheating. Meanwhile, the glorious Garden provides bassist Lou Barlow with one of his finest lead vocals to date.
Sweep It Into Space isn't without lesser moments, though, even if they're only short-lived. So while the dips into laid-back territory come perilously close to lethargy on the plinking Take It Back, it still manages a latter half upswing that gets things back onside. And there's nothing on here quite as catchy as Tiny from Give A Glimpse Of What Yer Not, but that may well be because this is a more consistent effort, an album full of highlights that reminds us that being 'lovely' and 'loud' aren't mutually exclusive qualities, while furthering one of the most consistent catalogues in rock.
Verdict: 4/5
For fans of: Pixies, Mudhoney, Afghan Whigs
Sweep It Into Space is released on April 23 via Jagjaguwar
Read this: Frank Black: "When I get asked about Nirvana, I think, 'Am I being validated because some other dude mentioned my name?' F*ck that!"
Related News & Content
How Israel built most talented roster for 2023 World Baseball Classic

How Israel built most talented roster for 2023 World Baseball Classic,Pulling the team together took a combination of personal cajoling, a widely respected manager and Jewish geography

Tags: Baseball Celebrity News & Culture Israeli News jpost.com Sports Team Israel The Jerusalem Post | JPost.com

A sneak peek at Avi Nesher's upcoming film 'The Monkey House'

A sneak peek at Avi Nesher's upcoming film 'The Monkey House',Set in the 1980s, the movie follows Amitay, whose books are out of print and who lives near the monkey park from which the movie gets its name.

Tags: Avi Nesher Culture in Israel film film israel Israel Culture jpost.com The Jerusalem Post | JPost.com

United Hatzalah's Eli Beer publishes biography 3 years after COVID-19

United Hatzalah's Eli Beer publishes biography 3 years after COVID-19,The book, entitled 90 Seconds: "The Epic Story of Eli Beer and United Hatzalah," tells the story of how he became the founder of the world's largest volunteer EMS service.

Tags: book review Celebrity News & Culture CoViD 19 eli beer Hatzalah jpost.com The Jerusalem Post | JPost.com United Hatzalah

Fake reality show trailer shines light on real issue of child marriage

Fake reality show trailer shines light on real issue of child marriage,The video was produced for Unchained At Last, a nonprofit that's been battling forced and child marriages for the past 12 years.

Tags: Celebrity News & Culture Child abuse diaspora jpost.com Orthodox jews The Jerusalem Post | JPost.com united states

1,001 Arabian nights and one Locanda in Ramada Olivié Nazareth

1,001 Arabian nights and one Locanda in Ramada Olivié Nazareth,The Ramada Olivié is an Arabian-style boutique hotel with modern comforts and an emphasis on culinary pleasure of tastes and aromas from Nazarene-Galilean cuisine (not kosher).

Tags: Celebrity News & Culture Food hotel jpost.com Nazareth restaurant The Jerusalem Post | JPost.com

The Red Sea Guitar Festival lines up Haim Romano and other Rock icons

The Red Sea Guitar Festival lines up Haim Romano and other Rock icons,Romano, Shalom Hanoch and Mati Caspi, Hemi Rudner, Yael Deckelbaum, Beri Sacharoff and Evyatar Banai are among those performing in the three-day lineup

Tags: Israel Culture Israel Festival Israeli Music Festival jpost.com Music musical The Jerusalem Post | JPost.com

Adam Lambert to return to Israel this summer

Adam Lambert to return to Israel this summer,The dynamic performer will undoubtedly make them come alive in Tel Aviv, the third stop on a tour that includes London's Royal Albert Hall.

Tags: Adam Lambert film film israel Israel Culture jpost.com Music The Jerusalem Post | JPost.com

Israeli artists draw a red line to High Court in protest of reform

Israeli artists draw a red line to High Court in protest of reform,The Israeli protesters noted in a statement that the paint used was designed specifically for the demonstration, noting that it is "easy to paint over."

Tags: Bnei Brak Haredi High Court of Justice Israel Culture Israel Protest jpost.com judicial reform protests reservists Supreme Court The Jerusalem Post | JPost.com

'POV': A meaningful Arabic version of Shakespeare's Macbeth – review

'POV': A meaningful Arabic version of Shakespeare's Macbeth - review,The role of theater is also to offer people basic familiarity with high culture. In that context, Shakespeare had been performed in Arabic since the beginning of the 20th century.

Tags: arabic Haifa Israel Culture jpost.com Macbeth Review Shakespeare The Jerusalem Post | JPost.com Theater

Album review: Fear Factory – Aggression Continuum

Album review: Fear Factory – Aggression Continuum,How would Fear Factory, industrial metal's eternally dysfunctional champions, choose to end an era? By ripping our faces off, naturally…

Tags: Fear Factory Kerrang! kerrang.com reviews

Måneskin have just announced a tiny, free London show

Måneskin have just announced a tiny, free London show,This will be wild… Måneskin are set to play London's 500-capacity Underworld tomorrow night!

Tags: Kerrang! kerrang.com Måneskin News

EP review: LOVEBITES – Glory, Glory, To The World

EP review: LOVEBITES – Glory, Glory, To The World,Japanese power-metallers LOVEBITES prove that even COVID can't slow them down with delirious new EP…

Tags: Kerrang! kerrang.com Lovebites reviews

Nickelback unleash thumping new single San Quentin from upcoming 10th album

Nickelback unleash thumping new single San Quentin from upcoming 10th album,Nickelback have announced details of their 10th album Get Rollin', and shared massive opener San Quentin.

Tags: Kerrang! kerrang.com News Nickelback

Album review: The Bronx – Bronx VI

Album review: The Bronx – Bronx VI,LA reprobates The Bronx remain the perfect punk band on searing sixth album, Bronx VI.

Tags: Kerrang! kerrang.com reviews the bronx

Demi Lovato: Paramore's Hayley Williams has "always been my dream collaboration"

Demi Lovato: Paramore's Hayley Williams has "always been my dream collaboration","She's one of my biggest influences…" enthuses Demi Lovato of "dream collaboration" Hayley Williams.

Tags: Demi Lovato Hayley williams Kerrang! kerrang.com News paramore

EP review: Grey Daze – Amends… Stripped

EP review: Grey Daze – Amends... Stripped,Chester Bennington's pre-Linkin Park work with Grey Daze stripped back, but with added poignancy...

Tags: Grey Daze Kerrang! kerrang.com Linkin Park reviews

Watch Slipknot's arty, cinematic new video for Yen

Watch Slipknot's arty, cinematic new video for Yen,Slipknot have released a new video for The End, So Far single Yen, and it's an absolute visual feast…

Tags: Corey Taylor Kerrang! kerrang.com News Slipknot

Album review: guccihighwaters – joke's on you

Album review: guccihighwaters – joke's on you,Long Beach emo-rapper guccihighwaters gets sombre on joke's on you...

Tags: guccihighwaters Kerrang! kerrang.com reviews

Listen: phem unveils vulnerable new single, watery

Listen: phem unveils vulnerable new single, watery,"I guess it's the feelings of hopelessness and the simplicity in which I describe it," says phem of how watery is already resonating with fans.

Tags: Kerrang! kerrang.com News phem

Album review: Lonely The Brave – The Hope List

Album review: Lonely The Brave – The Hope List,After weathering the storm, Lonely The Brave set forth on a promising new chapter with third album, The Hope List...

Tags: Kerrang! kerrang.com Lonely The Brave reviews

Ozzy Osbourne and Tony Iommi close Commonwealth Games with Sabbath reunion

Ozzy Osbourne and Tony Iommi close Commonwealth Games with Sabbath reunion,Black Sabbath's Ozzy Osbourne and Tony Iommi reunited onstage in Birmingham to jam Iron Man and Paranoid for the Commonwealth Games closing ceremony.

Tags: black sabbath Kerrang! kerrang.com News Ozzy Osbourne Tony Iommi

Album Review: Tommy Lee – ANDRO

Album Review: Tommy Lee – ANDRO,Drumming legend Tommy Lee puts The Dirt to one side for collaborative, hip-hop-centred solo album…

Tags: Kerrang! kerrang.com Motley Crue reviews

Sid Wilson's old mask turned into animatronic puppet that sings along to Slipknot onstage

Sid Wilson's old mask turned into animatronic puppet that sings along to Slipknot onstage,Watch Sid Wilson's old mask sing along to Slipknot live onstage – yes, it is as unsettling as it sounds.

Tags: Kerrang! kerrang.com News Slipknot

Paramore to donate portion of tour proceeds to reproductive care and abortion services

Paramore to donate portion of tour proceeds to reproductive care and abortion services,Paramore share their "outrage" on the Supreme Court's decision to overturn Roe V. Wade.

Tags: Hayley williams Kerrang! kerrang.com News paramore

I Prevail drop Bad Things from upcoming album True Power

I Prevail drop Bad Things from upcoming album True Power,The next single from True Power is here! Watch the video for I Prevail's massive new tune Bad Things.

Tags: I Prevail Kerrang! kerrang.com News

Siiickbrain releases haunting new single Jealousy

Siiickbrain releases haunting new single Jealousy,Fast-rising American alt. artist Siiickbrain recently teamed up with breakout acts WILLOW, Maggie Lindemann and more…

Tags: Kerrang! kerrang.com News Siiickbrain

"20 years later…" See Avril Lavigne recreate her iconic Let Go album cover

"20 years later…" See Avril Lavigne recreate her iconic Let Go album cover,Avril takes on the I'm Just A Kid challenge on TikTok and recreates her Let Go album cover, 20 years on…

Tags: Avril Lavigne Kerrang! kerrang.com News

My Chemical Romance, Paramore and more for Mexico's Corona Capital festival

My Chemical Romance, Paramore and more for Mexico's Corona Capital festival,Alongside Arctic Monkeys and Miley Cyrus, My Chem will headline this year's Corona Capital, while the likes of Paramore, Run The Jewels and IDLES are also…

Tags: beabadoobee FEVER 333 IDLES Kerrang! kerrang.com Kills Birds My Chemical Romance News paramore Run The Jewels

Candy drop short, chaotic new single World Of Sh*t

Candy drop short, chaotic new single World Of Sh*t,With new album Heaven Is Here arriving next Friday, Candy have unleashed record's third single: the aptly-named World Of Sh*t.

Tags: Candy Kerrang! kerrang.com News

Jimmy Eat World return with new single Something Loud

Jimmy Eat World return with new single Something Loud,Ahead of their UK and European tour dates this summer, Jimmy Eat World have kickstarted their next era with new single Something Loud.

Tags: Jimmy Eat World Kerrang! kerrang.com News

I was at Woodstock '99 and it destroyed my innocence

I was at Woodstock '99 and it destroyed my innocence,As the world stares in horror at Netflix's new documentary Trainwreck, one Kerrang! writer recalls the blur of overflowing toilets, flaming buses, and…

Tags: 99 Bush features Festivals Kerrang! kerrang.com Korn Limp Bizkit Lit red hot chili peppers Sevendust The Offspring Woodstock x27

From Dahmer to Bundy: 12 gruesome songs about serial killers

From Dahmer to Bundy: 12 gruesome songs about serial killers,From Jeffrey Dahmer to Richard Ramirez, some of history's most notorious serial killers have been immortalised in rock and metal songs…

Tags: Alkaline Trio At The Drive In Cannibal Corpse Exodus Fear Factory features Jane Kerrang! kerrang.com Melvins motorhead Rammstein s Addiction Sex Pistols Siouxsie and the Banshees slayer The Melvins x27

Alter Bridge's Mark Tremonti: The 10 songs that changed my life

Alter Bridge's Mark Tremonti: The 10 songs that changed my life,Alter Bridge guitar hero Mark Tremonti reflects on some of the most important songs of his life (spoiler: he really, really likes Metallica).

Tags: Alter Bridge Creed Kerrang! kerrang.com Mark Tremonti Music Tremonti

WAAX's track-by-track guide to At Least I'm Free

WAAX's track-by-track guide to At Least I'm Free,WAXX vocalist Maz DeVita takes us through the band's second album At Least I'm Free, one song at a time…

Tags: features Kerrang! kerrang.com Waax

Album review: Grumpster – Fever Dream

Album review: Grumpster – Fever Dream,Fast-rising Oakland punks keep the Grumpster fire burning on sweet and simple second album, Fever Dream.

Tags: Grumpster Kerrang! kerrang.com reviews

Album review: Coheed And Cambria – Vaxis – Act II: A Window Of The Waking Mind

Album review: Coheed And Cambria – Vaxis – Act II: A Window Of The Waking Mind,Proggy luminaries Coheed And Cambria continue their sci-fi epic with album number 10…

Tags: Coheed And Cambria Kerrang! kerrang.com reviews

Album review: Peaness – World Full Of Worry

Album review: Peaness – World Full Of Worry,Hilariously named DIY punks Peaness serve sunny anxiety on long-awaited debut, World Full Of Worry.

Tags: Kerrang! kerrang.com Peaness reviews

Album review: VRSTY – Welcome Home

Album review: VRSTY – Welcome Home,New York post-hardcore crew VRSTY bring the grooves and grit on debut full-length, Welcome Home.

Tags: Entertainment Kerrang! kerrang.com latest reviews VRSTY

The big review: Rammstein – Zeit

The big review: Rammstein – Zeit,Tick, tick… BOOM! Rammstein veer between introspective slow-burn and disco inferno on engrossing eighth album Zeit.

Tags: Entertainment Kerrang! kerrang.com Rammstein reviews Trending

Album review: HEALTH – DISCO4 :: PART II

Album review: HEALTH – DISCO4 :: PART II,Chaotic LA collisionists HEALTH return with some high-profile mates in tow for DISCO4:: PART II.

Tags: Entertainment Health Kerrang! kerrang.com reviews

Pat McAfee reveals if he knows what Packers' Aaron Rodgers will do in 2023

Pat McAfee reveals if he knows what Packers' Aaron Rodgers will do in 2023,There are multiple reasons fans would assume Rodgers would give McAfee some inside information. But does McAfee actually know Rodgers' plans?

Denny Hamlin Goes Against Jeff Gordon as He Reveals What Hendrick Motorsports Were "Messing With"

Denny Hamlin Goes Against Jeff Gordon as He Reveals What Hendrick Motorsports Were "Messing With",Denny Hamlin discusses why he feels Hendrick Motorsports might actually be in trouble with respect to their recently confiscated parts.

Three ways moving on from Aaron Rodgers impacts Packers

Three ways moving on from Aaron Rodgers impacts Packers,Moving on from a franchise quarterback is a challenging situation for any NFL team. Here are three ways the Packers will be impacted if Rodgers has indeed played his last game as a member of the

DOH warns vs eating seafood from oil spill areas

DOH warns vs eating seafood from oil spill areas,The Department of Health warned the public yesterday against eating fish and other seafood from areas affected by the oil spill. The post DOH warns vs eating seafood from oil spill areas appeared first

Inside 'world's best airport' with trampolines, waterfalls and a huge indoor jungle

Inside 'world's best airport' with trampolines, waterfalls and a huge indoor jungle,The world's coolest airport has officially been named and it offers a completely unique customer experience with an indoor rainforest and the tallest slide in an

'Smile' viral marketing campaign freaked out MLB fans with creepy grins in the stands

'Smile' viral marketing campaign freaked out MLB fans with creepy grins in the stands,Getting paid to smile doesn't sound like such a bad gig, eh? We guess it's not — until you read the fine print and learn you've gotta do it in the most public of pl

Jason Reitman Made Sure Ernie Hudson's Winston Gets His Due In Ghostbusters: Afterlife 2 – Exclusive

Jason Reitman Made Sure Ernie Hudson's Winston Gets His Due In Ghostbusters: Afterlife 2 - Exclusive,Ernie Hudson shared that Winston will get the respect he deserves in "Ghostbusters: Afterlife 2," according to his conversation with direct

Washington turns to Wall Street to help rescue dying bank

Washington turns to Wall Street to help rescue dying bank,In a scene reminiscent of the last financial crisis, the federal government turned to Wall Street this week for help with a blossoming emergency in the banking sector

FX Cooks Up Debut Teaser For 'The Bear' Season 2 | Man of Many

FX Cooks Up Debut Teaser For 'The Bear' Season 2 | Man of Many,Disney-owned network, FX, treated fans to a brief teaser trailer for season two of The Bear, giving us a glimpse at what's cooking.

Tags: Hulu manofmany manofmany.com Movies & TV TV series

This video of session dons Dann Huff and Tom Bukovac discussing the greatest guitar tones of all time is a real education

This video of session dons Dann Huff and Tom Bukovac discussing the greatest guitar tones of all time is a real education,"If you have to turn the fader up too far it's the wrong sound"

Tags: Guitars MusicRadar musicradar.com

Critics hail 'Black Panther: Wakanda Forever' as a powerful tribute to Chadwick Boseman

Critics hail 'Black Panther: Wakanda Forever' as a powerful tribute to Chadwick Boseman,We're only days away from the enormously anticipated premiere of Black Panther: Wakanda Forever, a film that carries the heavy dual task of pleasing moviegoers as an entertainment spectacle, while simultaneously acknowledging the immense void left by the star who brought Wakanda's place in the Marvel Cinematic Universe to life.

Tags: Black Panther Black Panther Wakanda Forever Chadwick Boseman Marvel Marvel Cinematic Universe Movies News Reviews Ryan Coogler SYFY Official Site SYFY WIRE Blog Post syfy.com SYFYWIRE

Elvis Presley's grand-daughter Riley Keough credits Janis Joplin, Led Zeppelin, Jimi Hendrix for inspiring her portrayal of fictional rock star Daisy Jones

Elvis Presley's grand-daughter Riley Keough credits Janis Joplin, Led Zeppelin, Jimi Hendrix for inspiring her portrayal of fictional rock star Daisy Jones,When Riley Keough wanted inspiration for her character Daisy Jones, she looked to some true icons of '70s music

Tags: Classic Rock Janis Joplin jimi hendrix Led Zeppelin Louder LouderPosts loudersound.com News

'The Movie Critic': Quentin Tarantino's 10th Film May Very Well Be His Last | Man of Many

'The Movie Critic': Quentin Tarantino's 10th Film May Very Well Be His Last | Man of Many,The Hollywood Reporter recently revealed that Quentin Tarantino has penned a script for 'The Movie Critic', his 10th and final film.

Tags: manofmany manofmany.com Movies & TV Quentin Tarantino

'Avatar: The Way of Water': Sigourney Weaver may have also broken Tom Cruise's breath-holding record

'Avatar: The Way of Water': Sigourney Weaver may have also broken Tom Cruise's breath-holding record,Kate Winslet isn't the only member of the Avatar sequel's cast who has mastered The Way of Water.

Tags: Avatar Avatar The Way of Water Features Interviews James Cameron Kate Winslet Movies Sigourney Weaver Stephen Lang SYFY Official Site SYFY WIRE Blog Post syfy.com SYFYWIRE

M83's Anthony Gonzalez on the success of Midnight City: "EDM is probably one of the styles of music that I hate the most. All of a sudden, I have these bro EDM DJs playing my music, and I just can't even care less"

M83's Anthony Gonzalez on the success of Midnight City: "EDM is probably one of the styles of music that I hate the most. All of a sudden, I have these bro EDM DJs playing my music, and I just can't even care less",French artist describes new album Fantasy as "the beginning of the next chapter of my career"

Tags: artistnews Computer Music emusician Future Music MusicRadar musicradar.com Recording Tech