Magic: The Gathering Unfinity Previews – Day Six Roundup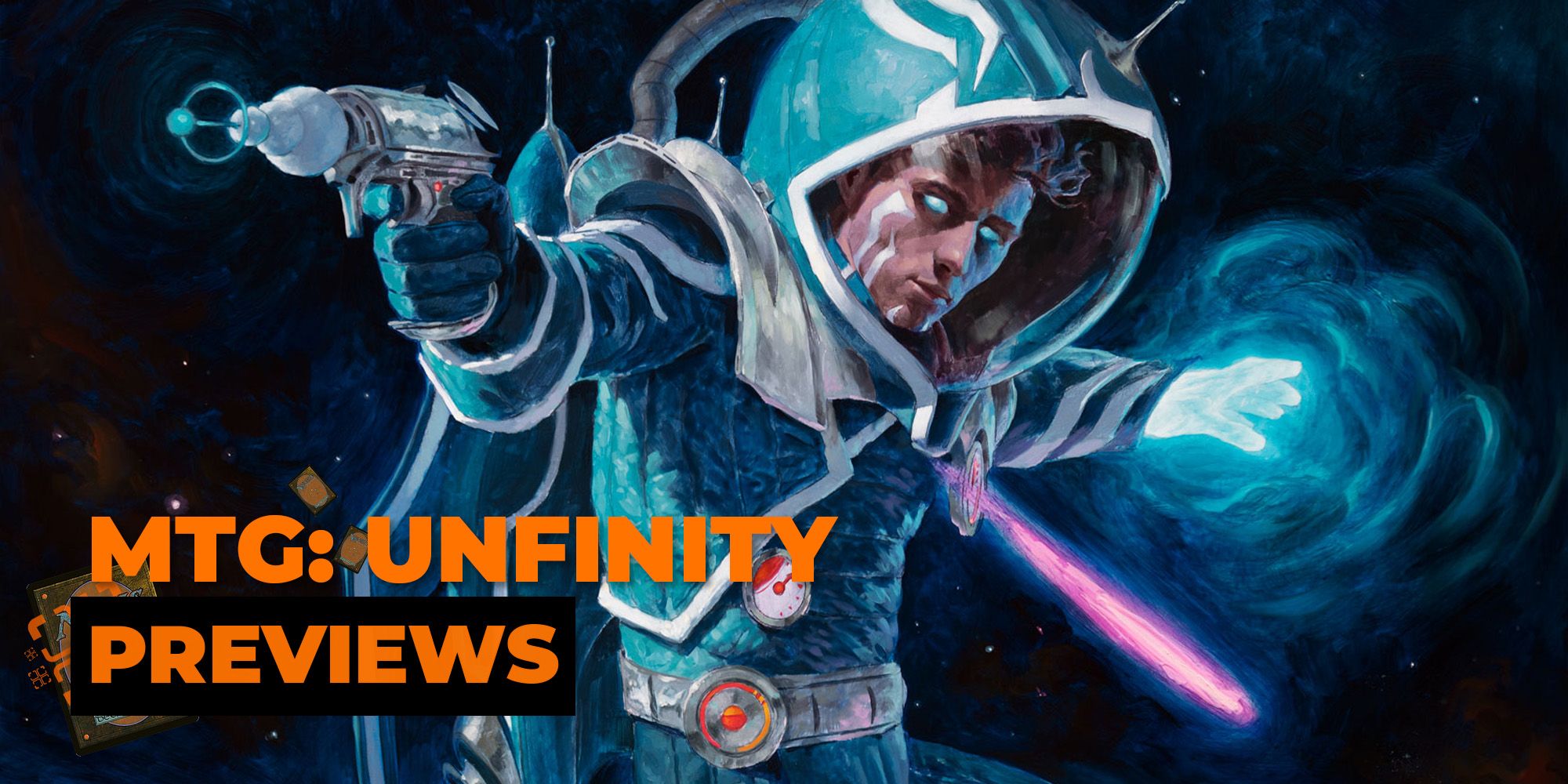 Magic: The Gathering Unfinity Previews – Day Six Roundup,Hats, Beebles, and Clown Robots take centre-stage in a very, very small day six of Magic: The Gathering's Unfinity previews.
Magic: The Gathering Unfinity Previews – Day Six Roundup
Quick Links
The weekend for Magic: The Gathering preview seasons is always quiet, but this is unprecedented. While we often see between eight and ten cards on the quiet shifts, today we have a record-breaking four cards on display.
That being said, there are still some exciting cards here. Most notably, the first Attraction with a prize for eternal formats, but also a payoff for failing all those dice rolls and a creature that helps pull together that Hat Tribal Deck you've been dreaming of. Here's everything we saw on day six of Unfinity's spoilers.
THEGAMER VIDEO OF THE DAY
Eternal Cards
Easily the most exciting Eternal-legal card today is Pick-a-Beeble. While this doesn't quite bring the Un-set's unofficial mascot creature type Beebles back into non-Acorn games, it does offer us a very nice Treasure token generator that'll work in any colour. With it, you can get a total of thirteen Treasure tokens (roll a five on the first turn to make five, then roll a six to make six more, then the Prize triggers and you get the final two) which, considering how easy it is to get Attractions into play, is rather incredible.
There's also Complaints Clerk, which finally gives you some payoff for those failed Attraction rolls. It's just a 1/1 creature, but it being an artifact creature certainly does make this more appealing to artifact-centric decks that might want to up their Affinity count or other synergies.
Finally, there's Fight the ___ Fight, which uses name stickers in likely the only way Eternal formats could: counting the letters. Unfinity's only being printed in English, which makes cards that care about card names more likely to show up in Acorn instead. a +0/+2 buff and the ability to take a creature out for two mana isn't bad, but it isn't particularly exciting either.
Image
Name
Text

D00-DL, Caricaturist by Ralph Horsley

Our sole Acorn card for the day is a Hat-matters creature that brings back the Hatificer creature type we'd only ever seen in Goblin Haberdasher in Unsanctioned. Haberthrasher encourages you to play a deck full of creatures wearing hats, or at least find ways to put hat stickers on them.

It not being legendary really helps here, as once you've got four out at once you'd just need to put a handful more creatures into play to secure the victory. It doesn't look like much, but this feels like a foundational piece in the set's white/black Hat-Matters draft archetype.

Image
Name
Text
Haberthrasher
One generic, one black creature – Human Hatificer Assassin – 2/2:

---

Deathtouch

---

Whenever another creature that has a hat enters the battlefield under your control or a hat sticker is put on a creature you control, each opponent loses one life.

Related News & Content

Scarlett Johansson's tattoos, and the meaning behind all 8 of them.

Scarlett Johansson's tattoos, and the meaning behind all 8 of them.,Scarlett Johansson Tattoo Meaning: Once the highest-paid actress in Hollywood, ScarJo has 7 tatts that all have secret meanings.

Failed Auckland housing developer owes creditors $40m

Failed Auckland housing developer owes creditors $40m,Delays, material shortages and pandemic-driven cost overruns blamed.

Tags: 40m administrators Auckland bill Bush BUSINESS Creditors Developer ellerslie failed flat Housing insolvent nzherald nzherald.co.nz owes projects property report reveals which

Pittsburgh synagogue mass shooting trial begins, prosecutors pursuing death penalty

Pittsburgh synagogue mass shooting trial begins, prosecutors pursuing death penalty,The trial for the man accused of shooting and killing 11 worshippers at a Pittsburgh synagogue began on Tuesday.

Tags: ABC News go.com us

'I've worked with Crime Stoppers for over a decade. Here's what my life looks like.'

'I've worked with Crime Stoppers for over a decade. Here's what my life looks like.',Jenny* shares with Mamamia how Crime Stoppers NSW is making a significant impact in solving and preventing crime across NSW, including how to report.

Tags: And crimestoppers2023adva Mamamia mamamia.com.au money Work

Air New Zealand Named Airline Of The Year

Air New Zealand Named Airline Of The Year,Air New Zealand has been named the airline of the year by Australia-based aviation safety and product rating agency AirlineRatings.com. Air New Zealand is adjudged the best in the industry for the seventh time since 2013 for its multi-award-winning in-flight innovations such as the SkyNest economy beds, operational safety, environmental leadership and motivation of its staff.

Tags: Air New Zealand Airline Excellence Awards airline of the year AirlineRatings.com RTTNews rttnews.com

Skyline Champion Shares Fall On Lower Q4 Earnings Below Street Estimates

Skyline Champion Shares Fall On Lower Q4 Earnings Below Street Estimates,Shares of homebuilder Skyline Champion Corporation (SKY) are falling more than 8% Tuesday morning after the company reported fourth-quarter results below analysts' view.

Tags: RTTNews rttnews.com Skyline Champion Corporation

Suspect confesses to 5 shootings in Arizona that left 4 dead and 1 wounded, police say

Suspect confesses to 5 shootings in Arizona that left 4 dead and 1 wounded, police say,Iren Byers, 20, was arrested in connection with four shootings late Friday night in Mesa and an additional homicide earlier on Friday in Phoenix.

Tags: Arizona CBSNews cbsnews.com Crime gun violence

Man missing after falling overboard on Carnival cruise ship near Florida

Man missing after falling overboard on Carnival cruise ship near Florida,A 35-year-old man is missing after falling from a Carnival cruise ship off the coast of Florida on Monday, authorities said.

Tags: ABC News go.com us

On par with pandemics and nuclear wars: Industry leaders issue AI warning

On par with pandemics and nuclear wars: Industry leaders issue AI warning,New York Times: Leaders warn systems could pose an existential threat to humanity.

Tags: anthropic BUSINESS could deadly deepmind extinction from future Google industry labs leaders nuclear nzherald nzherald.co.nz OpenAI Other Pandemics poses risk Systems Technology that warn Weapons

Honkai: Star Rail Gamescom Preview – Turn-Based Genshin's Turn In The Sun

Honkai: Star Rail Gamescom Preview - Turn-Based Genshin's Turn In The Sun,Honkai: Star Rail takes lessons from Honkai Impact 3rd, but might be too similar to Genshin Impact to stand out

Tags: Game Previews Games GamesCom Genshin Impact Honkai Impact 3rd TheGamer Originals thegamer.com

How To Say Goodbye EGX Preview

How To Say Goodbye EGX Preview,A puzzle game with lots of soul(s).

Tags: EGX Game Previews Games thegamer.com

LakeSide Early Access Impressions – A Charming, Relaxing City Builder

LakeSide Early Access Impressions - A Charming, Relaxing City Builder,LakeSide offers a very cozy experience, something that helps it stand-out in the city builder genre.

Tags: Game Previews Games indie games TheGamer Originals thegamer.com

Destiny 2: Lightfall Preview – A Brilliant Expansion To The Light And Darkness Saga

Destiny 2: Lightfall Preview - A Brilliant Expansion To The Light And Darkness Saga,Lightfall meaningfully expands Destiny 2's core systems without leaving new players behind.

Tags: Destiny 2 Game Previews Games thegamer.com

Deceive Inc. Preview – Heist Meets Prop Hunt Meets Hero Shooter

Deceive Inc. Preview - Heist Meets Prop Hunt Meets Hero Shooter,Deceive Inc. was a lot of fun, and could take the internet by storm when it launches.

Tags: First person shooter Game Previews Games GamesCom TheGamer Originals thegamer.com

Every Card In Magic: The Gathering's Dominaria United Painbow Commander Precon

Every Card In Magic: The Gathering's Dominaria United Painbow Commander Precon,With ten new cards and a load of reprints, Magic: The Gathering's Painbow deck is a WUBRG-player's dream.

Tags: Game Previews Games Magic The Gathering thegamer.com

Magic: The Gathering Unfinity Previews – Day Three Roundup

Magic: The Gathering Unfinity Previews – Day Three Roundup,Magic: The Gathering's Unfinity finally gives us a card that gets your opponent to stop looking at their phone mid-game.

Tags: Game Previews Games Magic The Gathering thegamer.com

Scars Above Preview: Above Expectations

Scars Above Preview: Above Expectations,Scars Above offers a challenge that remains accessible.

Tags: Game Previews Games Scars Above thegamer.com

Blacktail Preview – A Fairytale Delight

Blacktail Preview - A Fairytale Delight,Blacktail is a wonderful storybook adventure full of moral choices.

Tags: Focus Home Interactive Game Previews Games PC playstation 5 TheGamer Originals thegamer.com Xbox Series X

To Hell With The Ugly EGX Preview – Solving Mysteries In '50s LA

To Hell With The Ugly EGX Preview - Solving Mysteries In '50s LA,Rock Bailey makes for a compelling protagonist in this film noir parodic mystery.

Tags: EGX Game Previews Games thegamer.com

The Elder Scrolls Online Lost Depths Preview – A Deep Dive Into ESO's Potential

The Elder Scrolls Online Lost Depths Preview - A Deep Dive Into ESO's Potential,This is the most exciting expansion of Dwemer culture since Blackreach.

Tags: Game Previews Games Skyrim The Elder Scrolls Online thegamer.com

To Hell With The Ugly EGX Preview – Solving Mysteries In '50s LA

To Hell With The Ugly EGX Preview - Solving Mysteries In '50s LA,Rock Bailey makes for a compelling protagonist in this film noir parodic mystery.

Tags: EGX Game Previews Games thegamer.com

Magic: The Gathering – Warhammer 40,000 Commander Deck Previews: Necron Dynasties

Magic: The Gathering – Warhammer 40,000 Commander Deck Previews: Necron Dynasties,Command an army of deathless robots with Magic: The Gathering's Warhammer 40,000 Necron Dynasties Commander Deck.

Tags: Game Previews Games Magic The Gathering thegamer.com

Coral Island Early Access First Impressions

Coral Island Early Access First Impressions,A beautiful blend of farming sim staples with some added extras.

Tags: coral island Game Previews Games thegamer.com

Arkanoid: Eternal Battle Preview – A Great Classic Reinvented

Arkanoid: Eternal Battle Preview - A Great Classic Reinvented,Arkanoid is a classic of the '80s, and Eternal Battle is the perfect way to modernise it

Tags: Game Previews Games PC tetris Tetris 99 TheGamer Originals thegamer.com

Inkbound Preview: Monster Train Meets Midnight Suns

Inkbound Preview: Monster Train Meets Midnight Suns,Inkbound is a new roguelike strategy game from the developers behind Monster Train.

Tags: Game Previews Games Monster Train PC Steam TheGamer Originals thegamer.com

Dave The Diver Early Access Impressions – Fish Murderer By Day, Restauranteur By Night

Dave The Diver Early Access Impressions - Fish Murderer By Day, Restauranteur By Night,Dave the Diver serves up a blend of restaurant simulation with action-packed underwater fishing.

Tags: Game Previews Games thegamer.com

We Were Broken By The VR Games At EGX 2022

We Were Broken By The VR Games At EGX 2022,It turns out We Are One when it comes to being Everslaughter-ed by virtual reality, the experience left us feeling Broken (Edge).

Tags: Game Previews Games thegamer.com

Magic: The Gathering's Dominaria United Previews – Day Three Highlights

Magic: The Gathering's Dominaria United Previews – Day Three Highlights,Karn finally shows up in day three of Magic: The Gathering's Dominaria United preview season.

Tags: Game Previews Games Magic The Gathering thegamer.com

Stranded: Alien Dawn – Dunes And Moons Preview – Deserts, And Plants, and Bugs, Oh My!

Stranded: Alien Dawn - Dunes And Moons Preview - Deserts, And Plants, and Bugs, Oh My!,The Dunes and Moons update adds a new hostile but beutiful environment to Stranded: Alien Dawn.

Tags: Game Previews Games Stranded Alien Dawn thegamer.com

Jackbox Party Pack 9 Gamescom Preview – A Decent Addition To The Jackbox Mix

Jackbox Party Pack 9 Gamescom Preview - A Decent Addition To The Jackbox Mix,Like most Jackbox games, Party Pack 9 is as much fun as you make it, but brings some interesting concepts to the mix

Tags: Game Previews Games Jackbox Games Nintendo Switch PC playstation 5 TheGamer Originals thegamer.com Xbox One Xbox Series X

Magic: The Gathering Unfinity Previews – Day Two Roundup

Magic: The Gathering Unfinity Previews – Day Two Roundup,Let the dice roll and the Attractions run in day two of Magic: The Gathering's Unfinity previews.

Tags: Game Previews Games Magic The Gathering thegamer.com

Gamescom Previews – Arcade Paradise, The Last Worker, Tin Hearts, Gori: Cuddly Carnage

Gamescom Previews - Arcade Paradise, The Last Worker, Tin Hearts, Gori: Cuddly Carnage,My thoughts on Wired Games' line-up of titles at Gamescom.

Tags: Game Previews Games GamesCom indie games TheGamer Originals thegamer.com

Bayonetta 3 Preview – The Witch Is Back

Bayonetta 3 Preview - The Witch Is Back,Bayonetta 3 is shaping up to be a must-play game of 2022's busy season of mega launches

Tags: Bayonetta Game Previews Games Nintendo Switch TheGamer Originals thegamer.com

Magic: The Gathering – Warhammer 40,000 Commander Deck Previews: The Ruinous Powers

Magic: The Gathering – Warhammer 40,000 Commander Deck Previews: The Ruinous Powers,Control the forces of Chaos with Magic: The Gathering's The Ruinous Powers Warhammer 40,000 Commander deck.

Tags: Game Previews Games Magic The Gathering thegamer.com

Final Fantasy 7: Crisis Core Reunion Preview – A Fresh Coat Of Remake Paint

Final Fantasy 7: Crisis Core Reunion Preview - A Fresh Coat Of Remake Paint,A port, a remaster, a remake, and perhaps even something more.

Tags: Game Previews Games thegamer.com

Dakar Desert Rally Gamescom Preview – The Screaming Winds Of The Desert

Dakar Desert Rally Gamescom Preview - The Screaming Winds Of The Desert,Dakar Desert Rally offered one of the most intense experience of Gamescom, but it might be a little overwhelming

Tags: Game Previews Games PC PlayStation 4 playstation 5 TheGamer Originals thegamer.com Xbox One Xbox Series X

Like A Dragon: Ishin Preview

Like A Dragon: Ishin Preview,I just wanna Wild Dance(r) the night away, with samurai who can slay.

Tags: Game Previews Games like a dragon ishin PC PlayStation 4 playstation 5 Ryu Ga Gotoku Studios Sega thegamer.com Xbox One Xbox Series S Xbox Series X

Planet Of Lana EGX Preview

Planet Of Lana EGX Preview,A gorgeous puzzle game with lots of Ghibli-esque charm.

Tags: EGX Game Previews Games thegamer.com

Magic: The Gathering Exclusive Unfinity Preview – Drop Tower

Magic: The Gathering Exclusive Unfinity Preview – Drop Tower,Take a look at one of the new Attraction cards found in Magic: The Gathering's Unfinity set.

Tags: Game Previews Games Magic The Gathering thegamer.com

Everything Revealed At Magic: The Gathering's Brothers' War Debut

Everything Revealed At Magic: The Gathering's Brothers' War Debut,A look at everything new coming in Magic: The Gathering's The Brother's War.

Tags: Game Previews Games Magic The Gathering thegamer.com

Aldi May Bank Holiday 2023 opening times: What time are stores open?

Aldi May Bank Holiday 2023 opening times: What time are stores open?,ALDI shoppers will want to make a note of the supermarket's opening hours this Bank Holiday. There are three Bank Holidays to enjoy, with the May Day Bank Holiday landing on the first day of …

Tags: Aldi bank holidays Easter 2023 explainers mirror.co.uk Money explainers Money Tips Opening times and hours The Sun

Gunfire inches toward Brit's Sudan home & UK deploys warships as 4,000 stranded

Gunfire inches toward Brit's Sudan home & UK deploys warships as 4,000 stranded,A BRIT stranded in warring Sudan has filmed gunfire inching ever closer to his home as he cowers inside hoping to be rescued. Diplomats and their families were extracted by the SAS but up to 4,000 …

Tags: mirror.co.uk News World News Sudan The Sun UK Politics

Emotional moment Sinfield carries Burrow over finishing line at Leeds Marathon

Emotional moment Sinfield carries Burrow over finishing line at Leeds Marathon,KEVIN SINFIELD carried his mate Rob Burrow over the finishing line in emotional scenes at the Leeds marathon. The two Leeds Rhinos legends have been raising money and awareness for those with Motor…

Tags: Kevin Sinfield Leeds Leeds Rhinos mirror.co.uk rob burrow Rugby League Sport Rugby League The Sun

The Little Mermaid (2023)

The Little Mermaid (2023),Why watch a movie when you know there's a better version out there and it's readily available on streaming platforms? This is especially true regarding Disney's live-action feature, The Little Mermaid, directed by Rob Marshall and written by David Magee. Controversy aside, the original animated classic is far superior, and it is best just to avoid

Tags: [db:keycat] [db:keytags] 4 Alan Ng Awkwafina childrens Daveed Diggs feature filmthreat.com Halle Bailey Jacob Tremblay Javier Bardem Jonah Hauer King Melissa McCarthy Walt Disney Studios

Aurora Culpo Drops Jaws In An Orange Strapless Bikini

Aurora Culpo Drops Jaws In An Orange Strapless Bikini,Pageant queen Olivia Culpo's sister, model Aurora Culpo, dropped jaws as she posed in a strapless orange bikini!

Tags: Aurora Culpo Keycat Keytags Olivia Culpo Sophia Culpo theblast.com

UFC Ring Girl Brittney Palmer Stuns In Business Woman Look

UFC Ring Girl Brittney Palmer Stuns In Business Woman Look,UFC ring girl Brittney Palmer is proving that she is all business, while still looking stunning. See the photos here.

Tags: Brittney Palmer Instagram Keycat Keytags theblast.com UFC UFC Ring Girl

Gap Wants Kanye West To Cough Up $2M In Damages For Cost Incurred In Lawsuit

Gap Wants Kanye West To Cough Up $2M In Damages For Cost Incurred In Lawsuit,Gap Inc. is seeking over $2 million from rapper Kanye West to cover the potential cost of damages incurred in a breach of contract lawsuit.

Tags: adidas Gap Kanye West Keycat Keytags theblast.com yeezy

I'm a paramedic – here are 2 surprising foods I would never feed my toddler

I'm a paramedic - here are 2 surprising foods I would never feed my toddler,KNOWING what to feed your little one can be a challenge for many parents. This is especially the case when your child is still tiny. Toddlers are always at a heightened risk of choking because thei…

Tags: Children parenting and family life Health News Health Life Hacks mirror.co.uk Motherhood Pregnancy and childbirth The Scottish Sun

Optical illusion reveals if you're too much of a people pleaser or love drama – it all depends on what you see first

Optical illusion reveals if you're too much of a people pleaser or love drama – it all depends on what you see first,THIS clever optical illusion can reveal if you're too much of a people pleaser or secretly love a bit of drama. It all depends on what you see first though, so look closely. The image shows a…

Tags: disasters news and politics Optical Illusion road accidents The US Sun the-sun.com

I'm a school secretary & with one glance can tell who the naughty kids who wreak havoc are – just look at the parents

I'm a school secretary & with one glance can tell who the naughty kids who wreak havoc are – just look at the parents,PARENTING is not an easy job, nobody will claim that it is. However, as a secretary for a school in York, the Nature Vs Nurture debate is always interesting when studying children's behaviour in sc…

Tags: Children parenting and family life diseases and conditions education family and relationships Lifestyle medical health parenting Parenting advice schools smoking addiction substance abuse The US Sun the-sun.com

University Challenge viewers break down in tears as Jeremy Paxman signs off from show after 30 years

University Challenge viewers break down in tears as Jeremy Paxman signs off from show after 30 years,JEREMY Paxman left viewers emotional as he finally waved goodbye and signed off from University Challenge for good. The 73 year old presented his final edition of the BBC Two quiz show after remain…

Tags: BBC BBC Two college education education Jeremy Paxman television The Sun the-sun.com University Challenge