Elden Ring Player Beats Malenia At Level 1 Without Rolling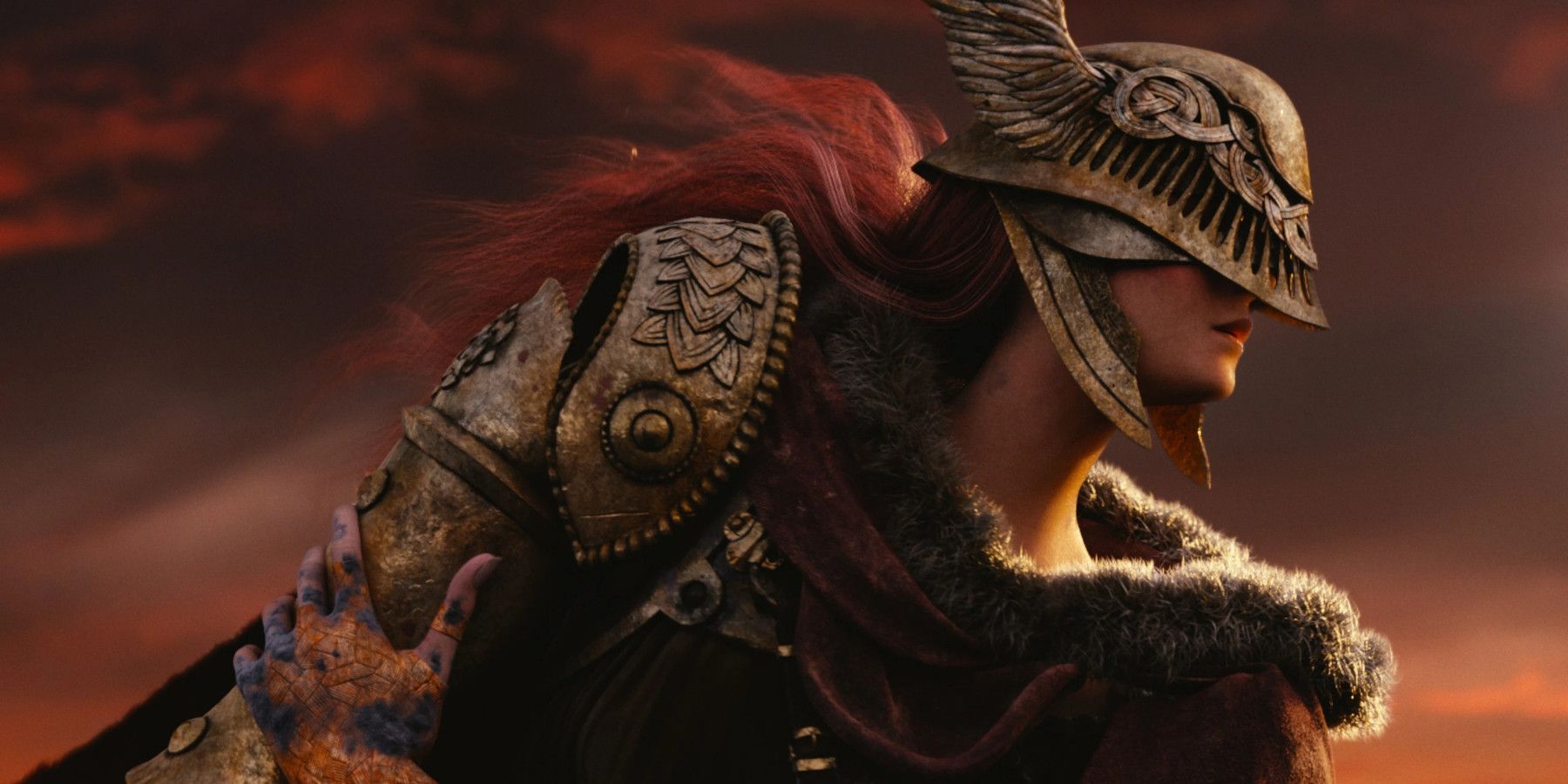 Elden Ring Player Beats Malenia At Level 1 Without Rolling,Another feat is done against Elden Ring's hardest boss Malenia, Blade of Miquella, as one player manages to defeat her without the need to roll.
Elden Ring Player Beats Malenia At Level 1 Without Rolling
Another player committed a wonderful feat of finesse as they manage to defeat the hardest boss in Elden Ring, Malenia, Blade of Miquella, without having to dodge. Elden Ring has a slew of difficult bosses, but none seem to compare to Malenia. Being titled the biggest challenge in the game, many players have attempted to fight her in differing circumstances, whether it's using just Ashes of War, or taking Malenia down with an unupgraded weapon at level 1. However, one important thing during these fights is the fact that these people would dodge her attacks using the rolls, but that's not the case for this one warrior.
GAMERANT VIDEO OF THE DAY SCROLL TO CONTINUE WITH CONTENT
Malenia is regarded to be one of the hardest bosses in Elden Ring, a challenge that many players have tried and failed against, some even dying 300 times to Malenia even at level 144. She's a tough enemy with fast, slashing attacks that deal a lot of damage, especially if the player gets hit by her famous Waterfowl Dance attack. In addition to that, her second phase adds Scarlet Rot to the equation, making it another thing to keep track of in her volley of difficult-to-avoid attacks.
RELATED: Talented Gamer Brings Mohg's Spear From Elden Ring Into The Real World
Despite her attacks being so hard to avoid for people who actually want to dodge, one player managed to beat her without a single dodge roll. Posting to r/Eldenring, user CaregiverAgitated534 uploaded a video of them going up against Elden Ring's Malenia. In the video, the player wields the Commander's Standard, a halberd with a long reach, and uses the weapon's special ability, Rallying Standard, to give themselves increased attack power and defense, a good way to go up against a difficult boss at level 1.
I beat Malenia without rolling at level 1
by u/CaregiverAgitated534 in Eldenring
The fight goes as normal, except the player doesn't roll out of any attack, instead moving out of the way or running away from them and then going back in to strike with the weapon's longer attacks. There is plenty of care seen in the player's movements, for a single hit could spell the end. Malenia's second phase is known to catch some Elden Ring players off guard. However, it goes just about as easily as the first phase, and she is soon defeated shortly afterward.
Elden Ring is known to throw some brutal challenges at its players, whether it's the game's hardest boss or simply stepping into the intense but memorable location known as Caelid. Yet, despite their difficulty, players showcase again and again that it is possible to beat them, even under difficult circumstances.
Elden Ring is available now on PC, PS4, PS5, Xbox One, and Xbox Series X/S.
MORE: Elden Ring: The 8 Best Great Runes For A Level 1 Run
Related News & Content
Proud curvy woman shares video of 'what the fish see' when swims, but cruel trolls say she's traumatising the sea life

Proud curvy woman shares video of 'what the fish see' when swims, but cruel trolls say she's traumatising the sea life,A WOMAN has found herself targeted by cruel trolls after sharing a video of "what the fish see" when she goes swimming. Soph, who has a "dedicated belly account" on Twitter,…

NZ police issue updates on serious crash, Whangārei

NZ police issue updates on serious crash, Whangārei,A man has died following a crash in Whangārei this morning. The crash, at the intersection of Western Hills Drive and Percy Street, was reported to

Tags: crash Family hospital life Mirage News miragenews.com New Zealand New Zealand Police Northland NZ police

Simple Test May Detect Breast, Ovarian Cancer Risk Without Genetic Sequencing

Simple Test May Detect Breast, Ovarian Cancer Risk Without Genetic Sequencing,Researchers from Dana-Farber Cancer Institute, Brigham and Women's Hospital, and Medical University of Lodz have found a way to detect increased

Tags: Cancer clinical study Dana Farber Cancer Institute DNA gene mutations genetic testing harvard Health heart disease INDIA Machine Learning Massachusetts Mirage News miragenews.com National Cancer Institute Nature Communications ovarian cancer Poland prostate cancer

A lost world of early ancestors discovered in billion-year-old rocks

A lost world of early ancestors discovered in billion-year-old rocks,The discovery of a "lost world" of ancient organisms that lived in Earth's waterways at least 1.6 billion years ago.

Tags: bacteria biology Earth Life on Earth science TechExplorist techexplorist.com

IRS says it still owes taxpayers $1.5 billion in 2019 refunds

IRS says it still owes taxpayers $1.5 billion in 2019 refunds,The IRS says that there are still 1.5 million people who are owed a 2019 refund, resulting in nearly $1.5 billion in unclaimed refunds.

Tags: medpagetoday.com News 3 WTKR Norfolk scripps news

I'm a neuroscientist – here's three top tips to help your brain stay young

I'm a neuroscientist – here's three top tips to help your brain stay young,KEEPING off your phone after just waking up and avoiding processed food help protect the brain, an expert claims. We should also try and meditate every day. US neuroscientist Emily McDonald, 24, sa…

Tags: Business and Finance Dementia Food and Drink food industry Health INDUSTRIES News Health The Sun The Sun Newspaper the-sun.com united states

I turned my Love Island side hustle into a £4million business – anyone can do it

I turned my Love Island side hustle into a £4million business – anyone can do it,A DIY fan dad has revealed how he turned his Love Island-inspired garden project into a million-pound jackpot business. Father-of-two Derry Green made the most of lockdown by building his glamping …

Tags: arts and crafts Camping Computing Coronavirus diy family and relationships Gardening hobbies and interests Home transformations Homes Internet Love Island money News Money parenting Side Hustle Small Business social network technology and computing The Sun the-sun.com Tips tricks and life hacks Travel travel type UK Lockdown

AT&T warns billions of Android and iPhone owners over three killer texts that raid your bank – spot the red flags now

AT&T warns billions of Android and iPhone owners over three killer texts that raid your bank – spot the red flags now,ALL smartphone owners are being urged to watch out for dangerous texts. These criminal messages may be hiding in your inbox right now – and it's bad news unless you learn to spot them. AT&…

Tags: android Business and Finance consumer electronics Crime Cyber Crime and hacking Fraud INDUSTRIES news and politics News Tech property crime Scams and fraud Tech technology and computing telecommunications industry telephony The US Sun the-sun.com

Police are responding to fatal crash – Darwin 9 June

Police are responding to fatal crash – Darwin 9 June,Northern Territory Police are investigating after a pedestrian was fatally struck by a vehicle in Darwin this morning. At 4:30am, emergency services

Tags: Ambulance Australia crash Darwin emergency Emergency Services fatal crash Fire and Emergency Services life Mirage News miragenews.com Northern Territory NT Police pedestrian police vehicle

Elden Ring Co-Op Fight Against Rennala Goes Horribly Wrong

Elden Ring Co-Op Fight Against Rennala Goes Horribly Wrong,At the drop of a dime, an Elden Ring co-op fight against Rennala, Queen of the Full Moon, goes horrifically wrong for the host.

Tags: Bandai Namco Entertainment Elden Ring From Software Game Rant gamerant.com Games

Hilarious Elden Ring Clip Shows Runebear Interrupting PVP Fight

Hilarious Elden Ring Clip Shows Runebear Interrupting PVP Fight,One Elden Ring player has a hilarious encounter with a Runebear which is suddenly decides to interrupt the player's PVP fight with an invader.

Tags: Bandai Namco Entertainment Elden Ring From Software Game Rant gamerant.com Games PC gaming PS4 PS5 Xbox One Xbox Series X

Elden Ring Fan Art Imagines NPCs and Bosses As SpongeBob SquarePants Characters

Elden Ring Fan Art Imagines NPCs and Bosses As SpongeBob SquarePants Characters,A very imaginative artist creates their vision of SpongeBob SquarePants characters as Elden Ring Demigods in an amusing manner.

Tags: Bandai Namco Entertainment Elden Ring From Software Game Rant gamerant.com Games PC gaming playstation PS4 PS5 spongebob squarepants xbox Xbox One Xbox Series X

Let Me Solo Her Beats Version of Elden Ring Where Every Enemy is Malenia Without Leveling Vigor

Let Me Solo Her Beats Version of Elden Ring Where Every Enemy is Malenia Without Leveling Vigor,Legendary Elden Ring player Let Me Solo Her finishes a run through the game without leveling Vigor and where every enemy is swapped out with Malenia.

Tags: Bandai Namco Entertainment Elden Ring From Software Game Rant gamerant.com Games PC gaming playstation PS4 PS5 Xbox One Xbox Series X

Elden Ring Player Wins Boss Fight After Dying

Elden Ring Player Wins Boss Fight After Dying,After a long and grueling fight, an Elden Ring player manages to defeat one of the game's bosses directly after the player dies to it.

Tags: Bandai Namco Entertainment Elden Ring From Software Game Rant gamerant.com Games PC gaming playstation PS4 PS5 xbox Xbox One Xbox Series S Xbox Series X

Elden Ring Invader Has Near-Death Experience Saved By Elevator

Elden Ring Invader Has Near-Death Experience Saved By Elevator,One Elden Ring invader is running through a dungeon when they nearly die if not for the dungeon's elevator coming to save their life.

Tags: Bandai Namco Entertainment Elden Ring From Software Game Rant gamerant.com Games

Elden Ring Player Smack Talks Hoarah Loux, Instantly Pays For It

Elden Ring Player Smack Talks Hoarah Loux, Instantly Pays For It,While fighting Hoarah Loux, one confident Elden Ring player does some funny trash talk but is quickly humbled by the difficult boss.

Tags: Bandai Namco Entertainment Elden Ring From Software Game Rant gamerant.com Games PC gaming PS4 PS5 Xbox One Xbox Series S Xbox Series X

Elden Ring Player Wins Boss Fight After Dying

Elden Ring Player Wins Boss Fight After Dying,After a long and grueling fight, an Elden Ring player manages to defeat one of the game's bosses directly after the player dies to it.

Tags: Bandai Namco Entertainment Elden Ring From Software Game Rant gamerant.com Games PC gaming playstation PS4 PS5 xbox Xbox One Xbox Series S Xbox Series X

Elden Ring Player Beats Malenia At Level 1 Without Rolling

Elden Ring Player Beats Malenia At Level 1 Without Rolling,Another feat is done against Elden Ring's hardest boss Malenia, Blade of Miquella, as one player manages to defeat her without the need to roll.

Tags: Bandai Namco Entertainment Elden Ring From Software Game Rant gamerant.com Games

It's Time for Tekken to Move Beyond Its Family Conflict

It's Time for Tekken to Move Beyond Its Family Conflict,For decades, the focal point of Tekken's narrative has been the fractured Mishima bloodline, but Tekken 8 can finally put this feud to rest.

Tags: Bandai Namco Bandai Namco Entertainment Game Rant gamerant.com Games PC gaming PS5 tekken Tekken 8 Xbox Series S Xbox Series X

Elden Ring Player Kills Gideon Ofnir Before He Finishes His Dialogue

Elden Ring Player Kills Gideon Ofnir Before He Finishes His Dialogue,In a boss encounter with Gideon Ofnir, one quick-thinking Elden Ring player attacks and defeats him before he can even finish speaking.

Tags: Bandai Namco Entertainment Elden Ring From Software Game Rant gamerant.com Games

Elden Ring Player Creates Simon Belmont From Castlevania

Elden Ring Player Creates Simon Belmont From Castlevania,One Elden Ring player brings the legendary vampire hunter Simon Belmont to life within the game's nearly limitless character customization system.

Tags: Bandai Namco Entertainment Elden Ring From Software Game Rant gamerant.com Games PC gaming playstation PS4 PS5 Xbox One Xbox Series X

Dedicated Gamer Dad Has Over 500 Hours on Tekken 7 With One Character

Dedicated Gamer Dad Has Over 500 Hours on Tekken 7 With One Character,A dedicated gamer dad apparently has over 500 hours on popular fighting game Tekken 7 with only one character.

Tags: Arcade Bandai Namco Bandai Namco Entertainment Game Rant gamerant.com Games PC gaming playstation PS4 tekken Tekken 7 xbox Xbox One

Tekken 8 Character Uses Move from Naruto

Tekken 8 Character Uses Move from Naruto,One of Tekken 8's returning characters uses a move that is straight out of the Naruto Shippuden: Ultimate Ninja Storm series of games.

Tags: Bandai Namco Entertainment Game Rant gamerant.com Games naruto tekken Tekken 8

Elden Ring Fire Giant Has One Big Flaw That's Still Annoying Players

Elden Ring Fire Giant Has One Big Flaw That's Still Annoying Players,Elden Ring's Fire Giant boss fight is still frustrating players with an annoying, repetitive dodge roll that forces players to chase him.

Tags: Bandai Namco Entertainment Elden Ring From Software Game Rant gamerant.com Games PC gaming playstation PS4 PS5 xbox Xbox One Xbox Series X

Strange Death Effect Causes Elden Ring Player to Die Twice To A Boss They Killed

Strange Death Effect Causes Elden Ring Player to Die Twice To A Boss They Killed,Confusion ensues as an Elden Ring player comes across a strange death effect as their character dies twice to a boss they killed.

Tags: Bandai Namco Entertainment Elden Ring From Software Game Rant gamerant.com Games

Elden Ring Invader Ambushes Host's Party As Malenia

Elden Ring Invader Ambushes Host's Party As Malenia,One Elden Ring invader gives a host and their party an early taste of Malenia as they ambush them dressed as the Blade of Miquella.

Tags: Bandai Namco Entertainment Elden Ring From Software Game Rant gamerant.com Games PC gaming PS4 PS5 xbox Xbox One Xbox Series X

Elden Ring Player Sits Down At Just The Right Moment

Elden Ring Player Sits Down At Just The Right Moment,Luck is bestowed upon one Elden Ring player as they decide to sit down in the game's Liurnia of the Lakes at just the right time.

Tags: Bandai Namco Entertainment Elden Ring From Software Game Rant gamerant.com Games playstation PS4 PS5 xbox Xbox One Xbox Series X

Elden Ring Player Beats Elden Ring After 438 Days, Records Adventure in Travel Journal

Elden Ring Player Beats Elden Ring After 438 Days, Records Adventure in Travel Journal,An Elden Ring player journals their lengthy 438-day adventure through the Lands Between, putting their thoughts and sketches on paper.

Tags: Bandai Namco Entertainment Elden Ring From Software Game Rant gamerant.com Games PC gaming PS4 PS5 Xbox One Xbox Series S Xbox Series X

Elden Ring Invader Uses Host's Attack Against Them

Elden Ring Invader Uses Host's Attack Against Them,When a host uses this one attack during an Elden Ring Invasion, the invader takes the chance to use it to their advantage and defeat them.

Tags: Bandai Namco Entertainment Elden Ring From Software Game Rant gamerant.com Games PC gaming playstation PS4 PS5 xbox Xbox One Xbox Series X

Gravelord Nito is Dark Souls' Best Reason to Try a Paladin Build

Gravelord Nito is Dark Souls' Best Reason to Try a Paladin Build,A unique quirk of the fight against Gravelord Nito acts as a great incentive to give Dark Souls a playthrough with a faith-based, paladin build.

Tags: Bandai Namco Entertainment Dark Souls From Software Game Rant gamerant.com Games

Lucky Elden Ring Player Finds Site of Grace at the Perfect Time

Lucky Elden Ring Player Finds Site of Grace at the Perfect Time,Sites of Grace offer a safe haven to Elden Ring players, and one lucky gamer manages to find a grace site at the perfect time.

Tags: Bandai Namco Entertainment Elden Ring From Software Game Rant gamerant.com Games PC gaming playstation PS4 PS5 xbox Xbox One Xbox Series X

Elden Ring Player Destroyed by Devastating Royal Revenant Combo Attack

Elden Ring Player Destroyed by Devastating Royal Revenant Combo Attack,A doomed Elden Ring player meets their sudden and untimely end at the hands of a monstrous Royal Revenant and its devastating combo attack.

Tags: Bandai Namco Entertainment Elden Ring From Software Game Rant gamerant.com Games PC gaming PS4 PS5 xbox Xbox One Xbox Series X

Elden Ring Player Accidentally Scares Their Co-Op Partner to Death

Elden Ring Player Accidentally Scares Their Co-Op Partner to Death,While Elden Ring is full of players who want to help hosts in need in co-op, one cooperator may have died because their host startled them.

Tags: Bandai Namco Entertainment Elden Ring From Software Game Rant gamerant.com Games PC gaming PS4 PS5 Xbox One Xbox Series X

Elden Ring Gets a First Person Mod

Elden Ring Gets a First Person Mod,A mod is released for Elden Ring, which introduces a first-person mode to the traditionally third-person title, accompanied by a trailer.

Tags: Bandai Namco Entertainment Elden Ring From Software Game Rant gamerant.com Games PC gaming playstation PS4 PS5 xbox Xbox One Xbox Series X

Elden Ring Player Beats Godfrey With Crafted Items

Elden Ring Player Beats Godfrey With Crafted Items,A very crafty player defeats Godfrey, the First Elden Lord, using only crafted items such as Lightning Pots and Bone Darts.

Tags: Bandai Namco Entertainment Elden Ring From Software Game Rant gamerant.com Games playstation PS4 PS5 xbox Xbox One Xbox Series X

Classic SoulCalibur Game May Be Getting Remastered

Classic SoulCalibur Game May Be Getting Remastered,If rumors are to be believed, the classic fighting game SoulCalibur might be getting a remaster for current-gen systems in the future.

Tags: Bandai Namco Entertainment Game Rant gamerant.com Games Soul Calibur

Elden Ring Player Gets Pushed Through Wall To Their Death

Elden Ring Player Gets Pushed Through Wall To Their Death,When one Elden Ring player thought an enemy wouldn't get them through a wall, the game's enemies went about proving them wrong.

Tags: Bandai Namco Entertainment Elden Ring From Software Game Rant gamerant.com Games

Elden Ring Player Defeats Malenia in 10 Seconds

Elden Ring Player Defeats Malenia in 10 Seconds,The battle against Malenia is one of the hardest boss fights in Elden Ring, but one player manages to defeat her in just 10 seconds.

Tags: Bandai Namco Entertainment Elden Ring From Software Game Rant gamerant.com Games PC gaming PS4 PS5 xbox Xbox One Xbox Series X

Elden Ring Player Experiences Strange Sudden Death When Fighting Fire Giant

Elden Ring Player Experiences Strange Sudden Death When Fighting Fire Giant,While fighting the Fire Giant, one Elden Ring player experiences a strange sudden death that seemingly has no explanation.

Tags: Bandai Namco Entertainment Elden Ring From Software Game Rant gamerant.com Games PC gaming PS4 PS5 Xbox One Xbox Series X

Elden Ring Player Encounters 'Spider-Man' in PVP

Elden Ring Player Encounters 'Spider-Man' in PVP,When engaging in Elden Ring's PVP arenas, one player has a chance encounter with a familiar friendly neighborhood superhero.

Tags: Bandai Namco Entertainment Elden Ring From Software Game Rant gamerant.com Games Man PC gaming playstation PS4 PS5 spider xbox Xbox One Xbox Series X

Aniplus Café Bringing 'Spy x Family' Elegance To Singapore This June

Aniplus Café Bringing 'Spy x Family' Elegance To Singapore This June,Starting 12 June, Aniplus café will play host to a 'Spy x Family' collaboration event with themed menu offerings, merchandise, and more.

Tags: Anime Aniplus Cafe comics Food Geek Bits Geek Culture geekculture.co Singapore SPY x FAMILY Spy x Family Part 2

'Street Fighter 6' Has Surpassed 1 Million Players Within First 3 Days

'Street Fighter 6' Has Surpassed 1 Million Players Within First 3 Days,'Street Fighter 6' is brawling its way to success, as Capcom has announced a total of one million players over its first three days.

Tags: Games Geek Bits Geek Culture geekculture.co street fighter Street Fighter 6

'Star Wars: Ahsoka' Sets 23 August Release On Disney+

'Star Wars: Ahsoka' Sets 23 August Release On Disney+,Disney+ has released a new TV spot announcing the exact release date for 'Star Wars: Ahsoka', now due to arrive on 23 August.

Tags: Disney Geek Bits Geek Culture geekculture.co Movies Rosario Dawson Star Wars Ahsoka tv

What local asset managers are buying – and selling – in this tough market | Business

What local asset managers are buying - and selling - in this tough market | Business,Some local asset managers are offloading high-performing stocks in anticipation of tough times. They are returning to safe havens like bonds, gold, and resilient companies.

Tags: allan gray asset managers Business equities investments news24.com ninety one old mutual investment group

I live in a lorry with my family – trolls say I'm 'cruel' & 'caging up' my kids… but we love our tiny home

I live in a lorry with my family – trolls say I'm 'cruel' & 'caging up' my kids… but we love our tiny home,A DEFIANT mum has hit back at internet trolls accusing her of "caging" her children in a campervan – declaring how her family actually love their tiny travelling home. Circus perf…

Tags: Children parenting and family life circus ecommerce events and attractions family and relationships Home transformations Homes parenting Parenting advice Shopping Social media The Sun the-sun.com

EastEnders sign up Coronation Street legend as cop who teams up with Callum – and it's bad news for Nish

EastEnders sign up Coronation Street legend as cop who teams up with Callum – and it's bad news for Nish,EASTENDERS has bagged a Coronation Street legend to team up with Callum – and wreak havoc for Nish. She'll be seen in Walford in the role of copper DS Miles who plays a big part in Nish'…

Tags: Coronation Street EastEnders law enforcement news and politics Police soap opera tv Soap stars Soaps Society Television The Sun the-sun.com TV

Love Island's George Fensom said he's smooth like WD-40? Yes pal, you're an aerosol

Love Island's George Fensom said he's smooth like WD-40? Yes pal, you're an aerosol,A KEY question from the opening night of Love Island was posed by Tyrique, who wanted to know: "What do you call people from Glasgow?" It's "wee man" generally, apart from those dozen or so who are…

Tags: George Fensom ITV Love Island Mitchel Taylor Molly Marsh News TV Opinion Pop Culture Reality TV Television The Sun The Sun Newspaper the-sun.com TV Tyrique Hyde

As Smoke Fills the Sky, Google's New AI Gives Wildly Inaccurate Info on Air Quality

As Smoke Fills the Sky, Google's New AI Gives Wildly Inaccurate Info on Air Quality,Asked to provide accurate air quality index (AQI) information, Google's AI-powered search tool offered incorrect and conflicting answers.

Tags: Artificial Intelligence Futurism futurism.com

Google warns Wi-Fi users over 7 common mistakes ruining your speed – we're all guilty

Google warns Wi-Fi users over 7 common mistakes ruining your speed – we're all guilty,GOOGLE has revealed some of the common mistakes that ruin your Wi-Fi speed. Wi-Fi is practically a home essential now, so making sure you're getting the best performance is important. Sadly, …

Tags: computer networking computing News Tech router Tech technology and computing The US Sun the-sun.com Tips tricks and life hacks wireless technology

I thought I was just tired because of my kids – I was shocked when I was diagnosed with a rare condition

I thought I was just tired because of my kids – I was shocked when I was diagnosed with a rare condition,A MUM who started suffering from acute tiredness was diagnosed with a rare congenital condition. Vicky Waite, 43, started feeling out of breath after routine activities such as climbing the stairs …

Tags: Health Leeds medical health medical tests medicine News Health Parenting advice pediatrics surgery The Sun the-sun.com

Studio shoppers rush to buy summer must-have for kids selling for £30 instead of £100

Studio shoppers rush to buy summer must-have for kids selling for £30 instead of £100,SHOPPERS have been rushing to Studio to buy a summer must-have for kids that is going for £30 instead of £100. The website has listed a children's wooden mud kitchen playset for 70% off. One …

Tags: Deals and sales facebook intentions Money Money saving News Money Parenting advice purchase Shopping Shopping advice The Sun the-sun.com