Star Wars: Andor Leaks Reveal Season 2 Filming In Futuristic Location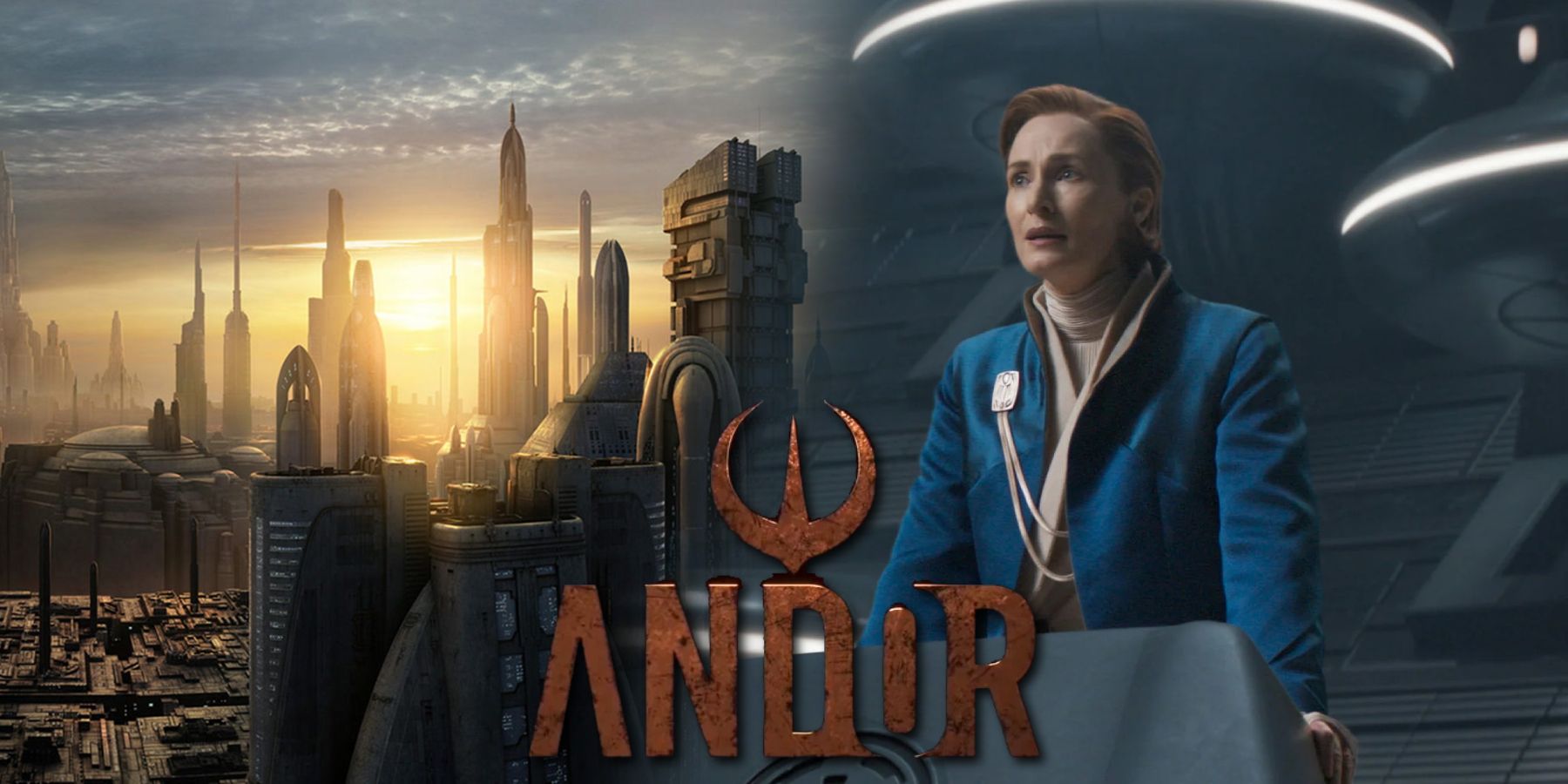 Star Wars: Andor Leaks Reveal Season 2 Filming In Futuristic Location,New Star Wars: Andor season 2 leaked images and videos feature two striking buildings that set the stage for some political intrigue.
Star Wars: Andor Leaks Reveal Season 2 Filming In Futuristic Location
Andor, the Disney Plus series, which many fans now consider some of the best Star Wars content, is making some nice progress on its second season, and some leaked shots offer an enticing look at what viewers can expect. Thanks to a filming location in a pretty futuristic-looking locale, the upcoming season already appears to be maintaining the show's impeccable sense of style.
Andor season 2 is set to span a much longer time frame, and according to newly leaked footage, at least part of that lengthy Star Wars story will take place in a truly unique-looking city area. That area is Valencia, Spain, which features a cultural center that looks right out of any number of sci-fi shows or movies. A set of sneaky shots and videos captured by nearby onlookers reveal footage that could easily be in-universe given the setting. But where exactly will these scenes be set?
GAMERANT VIDEO OF THE DAY SCROLL TO CONTINUE WITH CONTENT
RELATED: Star Wars: What Andor's Success Means For The Franchise's Future
One source is Twitter user Greyhame, who recently posted several excellent sneak peeks from Valencia. Notably, a squad of Imperial stormtroopers can be seen marching towards the imposing cultural center, inside of which appears to be several dignitaries and rich folk one would expect from such a setting. Another set of images comes from Reddit user untaljordi, who posted them on the Star Wars Leaks subreddit. While less clear than the Twitter counterpart, these photos still provide interesting perspectives.
In the Reddit post, the user speculates that one shot may feature the limousine owned by Genevieve O'Reilly's AOC-inspired senator Mon Mothma, though it's difficult to tell for certain. The Twitter post is more telling, featuring wide views of the Valencia cultural center with clear shots of stormtroopers and others. But the Reddit photos offer a look at both striking buildings seemingly being used for the new season of Andor. Clearly, there's some political aspect to the footage being shot there, but it may not necessarily be just more scenes on the Imperial capital Coruscant.
Some users in the Reddit comments suggest that Valencia is being used for scenes set on Mon Mothma's home planet of Chandrila. It certainly seems to match mentions of the world in various other Star Wars media, and it would make sense as one of several ways to introduce new characters in Andor season 2. The series is, after all, a political one. Granted, its initial draw was the radicalization story of Diego Luna's Cassian Andor before the events of Rogue One: A Star Wars Story. However, viewers quickly fell in love with many other characters to the point where Cassian barely featured in a few episodes. Bold move in a show named after him.
Andor is the perfect rebellion story, and a good rebellion needs something powerful to rebel against. As beautiful as Valencia is, it provides the perfect backdrop for the sorts of elites whose oppressive policies inspire the downtrodden to rise up. Here's hoping it's just one of many gorgeous visuals audiences get to enjoy when Andor season 2 finally arrives.
Andor season 1 is available to stream on Disney Plus.
MORE: DC: Times the Villain Had a Point
Source: Greyhame/Twitter, Star Wars Leaks/Reddit
Related News & Content
Lionel Messi says he's joining Major League Soccer's Inter Miami after exit from Paris Saint-Germain

Lionel Messi says he's joining Major League Soccer's Inter Miami after exit from Paris Saint-Germain,Lionel Messi says he will join Major League Soccer's Inter Miami team after two years with Paris Saint-Germain.

Denver judge rejects effort to block 10-year property tax relief plan from going before Colorado voters in November

Denver judge rejects effort to block 10-year property tax relief plan from going before Colorado voters in November,Denver District Court Judge David H. Goldberg rejected arguments that Proposition HH violates requirements in the state constitution that ballot measures deal with a single subject and have clear titles

Why Mary Trump is writing a romance novel with E. Jean Carroll and Jennifer Taub

Why Mary Trump is writing a romance novel with E. Jean Carroll and Jennifer Taub,Mary Trump, E Jean Carroll and Jennifer Taub discuss writing a romance novel together on Substack and why it's a politics fre ezone.

Trump allies say Biden is 'weaponizing' DOJ against his chief 2024 rival following indictment

Trump allies say Biden is 'weaponizing' DOJ against his chief 2024 rival following indictment,Although the former president was indicted on seven charges in a probe by Special Counsel Jack Smith, many Republicans on Capitol Hill turned their focus to...

AutoCAD WS for iPad and design everything you want, Review

AutoCAD WS for iPad and design everything you want, Review,We have known for a long time that the iPad version of Autocad was going to be launched, and from today it is a reality. Autodesk has developed AutoCAD ® WS for

Tags: Games zazogame.com

Tom Holland Says He's Taking a Break From Acting After Making 'the Crowded Room'

Tom Holland Says He's Taking a Break From Acting After Making 'the Crowded Room',Holland stars and serves as an executive producer in the AppleTV series, "The Crowded Room."

Tags: Entertainment entertainment news entertainmentactors gulfbusiness.com NBC4 Washington tom holland

Dorchester: Return of Maiden Castle Sunflower Trail

Dorchester: Return of Maiden Castle Sunflower Trail,A stunning sunflower trail will be back at its blooming best this summer.

Tags: Dorset Echo dorsetecho.co.uk News

Drew Barrymore says she never wished her mom was dead, slams tabloids in new video

Drew Barrymore says she never wished her mom was dead, slams tabloids in new video,Drew Barrymore says she never wished her mom was dead in strongly worded video to tabloids.

Tags: parents today TODAY.com

This Roomba robot vacuum and mop bundle is $500 off

This Roomba robot vacuum and mop bundle is $500 off,Snag a great robot vacuum and robot mop bundle at Best Buy and save hours of cleaning throughout the week.

Tags: best buy 2023 commerce 2023 deal Deals digitaltrends.com irobot roomba s9 robot vacuum robot braava jet m6 robot mop robot mop deals robot vacuum deals Smart home smart home deals

Matt Murdock is back: New 'Daredevil' series in the works at Disney+

Matt Murdock is back: New 'Daredevil' series in the works at Disney+,The Man Without Fear is finally coming back to the small screen! Variety reports that a brand-new Daredevil television series is currently in development at Disney+ from Covert Affairs co-creators, Matt Corman and Chris Ord, who will serve as writers and executive produ

Tags: Charlie Cox Daredevil Disney Plus Disney+ Marvel Cinematic Universe News SYFY Official Site SYFY WIRE Blog Post syfy.com SYFYWIRE TV

Critics call 'Moon Knight' a unique standalone MCU story anchored by a game Oscar Isaac

Critics call 'Moon Knight' a unique standalone MCU story anchored by a game Oscar Isaac,To quote that old doo-wop song by The Capris, "There's a moon out tonight." And not just a moon — there's also a brutal vigilante who fights crime on behalf of the lunar satellite. Well, he's not so much an agent of the moon as he is a proxy for an Ancient Egyptian deity associated with the moon. Wait...what were we talking about again?

Tags: Disney Plus Disney+ Marvel Cinematic Universe moon knight News Oscar Isaac reviews SYFY Official Site SYFY WIRE Blog Post syfy.com SYFYWIRE TV

'Percy Jackson and the Olympians' adds Lin-Manuel Miranda as Greek god in Disney+ series

'Percy Jackson and the Olympians' adds Lin-Manuel Miranda as Greek god in Disney+ series,Lin-Manuel Miranda is not throwing away his shot...to play a Greek deity. Disney+ announced Monday that the acclaimed creator behind In the Heights and Hamilton has boarded Percy Jackson and the Olympians in the role of the wing-footed and caduceus-carrying Hermes, god of the road.

Tags: Casting Disney Plus Disney+ Fantasy lin manuel miranda News Percy Jackson Streaming SYFY Official Site SYFY WIRE Blog Post syfy.com SYFYWIRE Television TV

Star Wars' Ewan McGregor on what he needed to work on after returning to 'Obi-Wan Kenobi' role

Star Wars' Ewan McGregor on what he needed to work on after returning to 'Obi-Wan Kenobi' role,It's been almost 20 years since we've seen Ewan McGregor as Obi-Wan Kenobi. And with McGregor's return to the role for the upcoming Disney+ limited series, he admits that he was a bit rusty in playing certain parts of the character.

Tags: Disney Plus Ewan McGregor News Obi Wan Kenobi Sci fi Science fiction Sir Alec Guinness Star Wars SYFY Official Site SYFY WIRE Blog Post syfy.com SYFYWIRE TV

Daredevil kicks it with 'She-Hulk' in new trailer setting up rest of Season 1

Daredevil kicks it with 'She-Hulk' in new trailer setting up rest of Season 1,Ever since word broke that Disney+ was making a She-Hulk series, Marvel fans were holding out hope the MCU's other favorite lawyer Matt Murdock (Charlie Cox) would show up. We knew he was coming, and now we finally have a peek at what he'll be doing. Sadly, he's not busting a move with Megan Thee Stallion — but he does seem plenty busy providing some superhero-ing advice to Jennifer Walters (Tatiana Maslany).

Tags: Comics Daredevil Disney Plus Marvel News She Hulk SYFY Official Site SYFY WIRE Blog Post syfy.com SYFYWIRE TV

First look at 'Ahsoka' reveals 'Rebels' Ghost Crew reassembling in 'Star Wars' live action

First look at 'Ahsoka' reveals 'Rebels' Ghost Crew reassembling in 'Star Wars' live action,In their first appearance at Star Wars Celebration since the premiere of The Mandalorian, creator Jon Favreau and producer Dave Filoni brought 11(!) humans and two non-humans (!) from The Mandalorian and Ahsoka worlds along with them.

Tags: Ahsoka Tano Disney Plus Disney+ jon favreau Lucasfilm News Star Wars SYFY Official Site SYFY WIRE Blog Post syfy.com SYFYWIRE the mandalorian TV

'Obi-Wan Kenobi' shifts back Disney+ release, but reveals plan for 2-episode premiere

'Obi-Wan Kenobi' shifts back Disney+ release, but reveals plan for 2-episode premiere,Star Wars fans will have to wait just a hair longer for Obi-Wan Kenobi. In a pre-recorded message posted to Twitter, Ewan McGregor — who returns to play the in-exile Jedi Knight — announced the series has officially shifted its original Disney+ premiere date from Wednesday, May 25 to Friday, May 27.

Tags: darth vader Disney Plus Disney+ Ewan McGregor Hayden Christensen Lucasfilm News Obi Wan Kenobi Star Wars SYFY Official Site SYFY WIRE Blog Post syfy.com SYFYWIRE TV

'Kenobi' head writer explains how Episode 4's chilling Jedi 'tomb' is integral to Obi-Wan's journey

'Kenobi' head writer explains how Episode 4's chilling Jedi 'tomb' is integral to Obi-Wan's journey,The fourth episode of Obi-Wan Kenobi on Disney+ brought the battered ex-Jedi Knight (Ewan McGregor) to the water moon of Nur in the Mustafar system to rescue Princess Leia Organa (Vivien Lyra Blair) from the dreaded Fortress Inquisitorius.

Tags: Disney Plus Disney+ Ewan McGregor interviews Lucasfilm News Obi Wan Kenobi Science fiction Star Wars Star Wars Jedi Fallen Order SYFY Official Site SYFY WIRE Blog Post syfy.com SYFYWIRE Television TV

'Obi-Wan Kenobi': Everything you need to know about Disney+'s new Star Wars show

'Obi-Wan Kenobi': Everything you need to know about Disney+'s new Star Wars show,"Hello there."

Tags: Disney Plus Disney+ Ewan McGregor Lucasfilm Obi Wan Kenobi Star Wars Streaming SYFY Insider SYFY Official Site SYFY WIRE Blog Post syfy.com SYFYWIRE TV

Our next 'Star Wars' obsession: What we learned from the first 'Obi-Wan Kenobi' trailer

Our next 'Star Wars' obsession: What we learned from the first 'Obi-Wan Kenobi' trailer,It was as if millions of voices cried out in nerdgasm and were not suddenly silenced. The long awaited first teaser for the next Disney+ streaming series is here. Star Wars: Obi-Wan Kenobi has popped in to say, all together now, "Hello there."

Tags: Disney Plus features Obi Wan Kenobi Star Wars SYFY Official Site SYFY WIRE Blog Post syfy.com SYFYWIRE TV

Original 'Hocus Pocus' stars not returning for Disney+ sequel – but there is a very cute new cat

Original 'Hocus Pocus' stars not returning for Disney+ sequel - but there is a very cute new cat,Sorry, Hocus Pocus fans — we've got some disappointing news to share. When the long-awaited sequel finally hits Disney+ in late September, it will do so without the return of two original cast members: Omri Katz (Max Dennison) and Vinessa Shaw (Allison Watts).

Tags: Disney Plus Disney+ Fantasy hocus pocus horror Movies News sequels SYFY Official Site SYFY WIRE Blog Post syfy.com SYFYWIRE

Daredevil and She-Hulk will 'match each other's wits' when Charlie Cox shows up on Disney+ series

Daredevil and She-Hulk will 'match each other's wits' when Charlie Cox shows up on Disney+ series,Long before Marvel Studios released the San Diego Comic-Con trailer for its She-Hulk: Attorney at Law series coming to Disney+, viewers were already speculating that Matt Murdock would probably make an appearance in the small screen project (scheduled to hit the Mouse House streaming platform two weeks from today).

Tags: Charlie Cox Daredevil Disney Plus Disney+ News Science fiction She Hulk Streaming SYFY Official Site SYFY WIRE Blog Post syfy.com SYFYWIRE Tatiana Maslany Television TV

Obi-Wan is haunted – and hunted – by Darth Vader in Part 3 of 'Star Wars' series 'Kenobi'

Obi-Wan is haunted - and hunted - by Darth Vader in Part 3 of 'Star Wars' series 'Kenobi',We thought we already knew the life of Obi-Wan Kenobi was full of pain, but turns out we didn't know the half of it. Part 3 of Obi-Wan Kenobi, the new live-action Star Wars series streaming on Disney+, proves that Kenobi's suffering has only just begun.

Tags: Disney Plus features News Obi Wan Kenobi Sci fi Science fiction Star Wars SYFY Official Site SYFY WIRE Blog Post syfy.com SYFYWIRE TV tv recaps

Here's every 'Star Wars' show coming to Disney+

Here's every 'Star Wars' show coming to Disney+,That galaxy far, far away that started on the silver screen is coming closer and closer to dominating your TVs.

Tags: Disney Plus Disney+ features Lists Lucasfilm Star Wars Streaming SYFY Insider SYFY Official Site SYFY WIRE Blog Post syfy.com SYFYWIRE TV

Star Wars: 'Obi-Wan Kenobi' pulls back curtain on series villain, a Force-sensitive Jedi hunter

Star Wars: 'Obi-Wan Kenobi' pulls back curtain on series villain, a Force-sensitive Jedi hunter,After the Jedi Order tragically crumbled in the wake of Anakin's betrayal and Palpatine's hostile takeover of the galaxy, Obi-Wan Kenobi (Ewan McGregor) decided to live out a quiet existence on Tatooine, where he vowed to watch over a young Luke Skywalker.

Tags: Disney Plus Disney+ Ewan McGregor News Obi Wan Kenobi Star Wars SYFY Official Site SYFY WIRE Blog Post syfy.com SYFYWIRE TV

Star Wars: 'Obi-Wan Kenobi' series on Disney+ teases life of exile & young Luke in first trailer

Star Wars: 'Obi-Wan Kenobi' series on Disney+ teases life of exile & young Luke in first trailer,We finally have our first teaser trailer for the new Obi-Wan Kenobi series coming to Disney+ at the end of May, and this initial batch of footage is enough to give any Star Wars fan instant goosebumps.

Tags: Disney Plus Disney+ Ewan McGregor Hayden Christensen News Obi Wan Kenobi Star Wars super bowl SYFY Official Site SYFY WIRE Blog Post syfy.com SYFYWIRE trailers TV

First reactions hail 'Andor' as most mature 'Star Wars' series: 'Akin to a dark Ridley Scott sci-fi joint'

First reactions hail 'Andor' as most mature 'Star Wars' series: 'Akin to a dark Ridley Scott sci-fi joint',It's official: Tony Gilroy has brought the sexiness and multi-layered political and espionage intrigue of the Bourne franchise to the galaxy far, far away with Andor. Lucky journalists who got a chance to view the first four episodes ahead of the show's three-episode premiere on Disney+ next week are hailing the hotly-anticipated

Tags: Andor Diego Luna Disney Plus Disney+ Lucasfilm News Science fiction Star Wars Streaming SYFY Official Site SYFY WIRE Blog Post syfy.com SYFYWIRE Television Tony Gilroy TV Twitter

'Obi-Wan Kenobi' composer on how Lucasfilm landed John Williams' blessing for 'Star Wars' series

'Obi-Wan Kenobi' composer on how Lucasfilm landed John Williams' blessing for 'Star Wars' series,You can't really make a Star Wars project without the indelible sounds of John Williams. It's like trying to enjoy a warm slice of apple pie without a big scoop of vanilla ice cream slowly melting over the top crust. The two things are (and always will be) inextricably linked until the end of time.

Tags: Disney Plus Disney+ interviews John Williams Music News Obi Wan Kenobi Science fiction Star Wars SYFY Official Site SYFY WIRE Blog Post syfy.com SYFYWIRE Television TV

'Star Wars Rebels' fan favorite comes to 'Ahsoka' as Disney+ series finds live-action Ezra Bridger

'Star Wars Rebels' fan favorite comes to 'Ahsoka' as Disney+ series finds live-action Ezra Bridger,Lucasfilm's Ahsoka television series has finally found its Ezra Bridger. The Hollywood Reporter has confirmed that up-and-comer Eman Esfandi will play the fan favorite Rebels character in the upcoming Star Wars project on Disney+.

Tags: ashoka tano Dave Filoni Disney Plus Disney+ Lucasfilm News Rosario Dawson Science fiction Star Wars star wars rebels SYFY Official Site SYFY WIRE Blog Post syfy.com SYFYWIRE Television TV

Hayden Christensen watched animated 'Star Wars' shows to prep for Darth Vader return in 'Kenobi'

Hayden Christensen watched animated 'Star Wars' shows to prep for Darth Vader return in 'Kenobi',Hayden Christensen apparently took his return as Darth Vader in Lucasfilm's Obi-Wan Kenobi project very seriously.

Tags: animation Disney Plus Disney+ Ewan McGregor Hayden Christensen Movies News Obi Wan Kenobi Science fiction Star Wars star wars rebels Star Wars The Clone Wars Streaming SYFY Official Site SYFY WIRE Blog Post syfy.com SYFYWIRE Television TV

'The Acolyte': Mysterious new 'Star Wars' show confirms cast, High Republic era mystery-thriller plot

'The Acolyte': Mysterious new 'Star Wars' show confirms cast, High Republic era mystery-thriller plot,If you loved Obi-Wan Kenobi's detective arc in Attack of the Clones, then Lucasfilm has great news for you.

Tags: Disney Plus Disney+ Lucasfilm News Science fiction Star Wars SYFY Official Site SYFY WIRE Blog Post syfy.com SYFYWIRE Television the acolyte TV

Marvel's next original series 'Ms. Marvel' drops first trailer, sets June premiere on Disney+

Marvel's next original series 'Ms. Marvel' drops first trailer, sets June premiere on Disney+,EMBIGGEN!!! Iman Vellani's Kamala Khan makes her entrance into the Marvel Cinematic Universe with the very first teaser trailer for the Ms. Marvel television series, which will officially premiere on Disney+ Wednesday, June 8.

Tags: Disney Plus Disney+ Iman Vellani Marvel Cinematic Universe Ms Marvel News SYFY Official Site SYFY WIRE Blog Post syfy.com SYFYWIRE trailers TV

Outrage over Disney+ adding 'Daredevil' series, as Parents Television and Media Council speaks out

Outrage over Disney+ adding 'Daredevil' series, as Parents Television and Media Council speaks out,Matt Murdock's impending arrival on Disney+ is great news for some and catastrophic news for others.

Tags: Daredevil Disney Plus Disney+ Iron Fist Jessica Jones Luke Cage Marvelu0027s The Defenders netflix News Streaming SYFY Official Site SYFY WIRE Blog Post syfy.com SYFYWIRE The Punisher TV

'Andor' will be the first 'Star Wars' project to acknowledge sex in the galaxy far, far away

'Andor' will be the first 'Star Wars' project to acknowledge sex in the galaxy far, far away,Andor creator Tony Gilroy isn't pulling any punches with his Rogue One prequel series (arriving on Disney+ this week). He set out to make a Lucasfilm project for adults, and that's exactly what he did, including mature elements and themes audiences haven't quite seen in the galaxy far, far away up to this point.

Tags: Andor Disney Plus Disney+ Lucasfilm Movies News rogue one a star wars story Science fiction sex Star Wars Streaming SYFY Official Site SYFY WIRE Blog Post syfy.com SYFYWIRE Television Tony Gilroy TV

Wongers! Turns out the MCU's greatest post-credit scene from 'She-Hulk' wasn't even in the script

Wongers! Turns out the MCU's greatest post-credit scene from 'She-Hulk' wasn't even in the script,Anyone else craving an MCU spinoff project for "Wongers" and Madisynn? When the secret world wolf magic was first introduced back in 2016, no one could have ever guessed that the future Sorcerer Supreme (played by Benedict Wong) would one day find a TV-watching buddy in a ditzy party girl from Los Angeles (Patty Guggenheim).

Tags: benedict wong Comics Disney Plus Disney+ Fantasy Marvel Cinematic Universe News Science fiction She Hulk Streaming SYFY Official Site SYFY WIRE Blog Post syfy.com SYFYWIRE Television TV

'Pinocchio': Tom Hanks wishes upon a star in first trailer for Robert Zemeckis' live-action Disney remake

'Pinocchio': Tom Hanks wishes upon a star in first trailer for Robert Zemeckis' live-action Disney remake,It's time to leave those marionette strings behind with the first teaser trailer for Disney's live-action remake of its animated Pinocchio film from 1940.

Tags: Disney Plus Disney+ Fantasy News pinocchio Remakes Robert Zemeckis SYFY Official Site SYFY WIRE Blog Post syfy.com SYFYWIRE Tom Hanks trailers TV

'Disenchanted': Amy Adams is an evil stepmother in magical trailer for long-awaited sequel

'Disenchanted': Amy Adams is an evil stepmother in magical trailer for long-awaited sequel,Be careful what you wish for! Disney+ has conjured up the official trailer for Disenchanted (the long-awaited sequel to 2007's Enchanted), which finds ex-animated princess Giselle (Amy Adams); her husband, Robert (Patrick Dempsey); their teenage daughter, Morgan (Gabriella Baldacchino); and newborn baby moving out of Manhattan and into the suburbs more than a decade after the events of the first film.

Tags: amy adams disenchanted Disney Plus Disney+ Fantasy Movies News Streaming SYFY Official Site SYFY WIRE Blog Post syfy.com SYFYWIRE trailers

'Moon Knight' goes full horror mode in first freaky clip from Marvel's new Disney+ series

'Moon Knight' goes full horror mode in first freaky clip from Marvel's new Disney+ series,Here's a pro Marvel tip: Never let a terrifying Ancient Egyptian deity corner you inside an elevator. Judging by the first official clip from the Moon Knight TV series (coming to Disney+ at the end of the month), Doctor Strange in the Multiverse of Madness won't be the MCU's initial foray into the world of horror.

Tags: Disney Plus Disney+ Marvel Cinematic Universe moon knight News Oscar Isaac SYFY Official Site SYFY WIRE Blog Post syfy.com SYFYWIRE TV

Nick Fury returns to take on the Skrulls in full trailer for 'Secret Invasion'

Nick Fury returns to take on the Skrulls in full trailer for 'Secret Invasion',Nick Fury (Samuel L. Jackson) is back in our galaxy and he's not exactly thrilled about a Skrull takeover of Earth in the official trailer for Marvel Studios' Secret Invasion TV series, which premieres on Disney+ this June.

Tags: ben mendelsohn Disney Plus Disney+ Marvel Cinematic Universe News samuel l jackson Science fiction Secret Invasion Streaming SYFY Official Site SYFY WIRE Blog Post syfy.com SYFYWIRE Television trailers TV

Christian Slater explains how Val Kilmer inspired Allegash in 'Willow'

Christian Slater explains how Val Kilmer inspired Allegash in 'Willow',From the moment Christian Slater was introduced at 2022's D23 Expo as a mysterious addition to the Willow series, now streaming on Disney+, the presumption was that he would be taking over the film role of Madmartigan, once played by Val Kilmer (who lost his voice due to complications from throat cancer).

Tags: christian slater Disney Plus features interviews SYFY Official Site SYFY WIRE Blog Post syfy.com SYFYWIRE TV Val Kilmer willow

'Percy Jackson and the Olympians' are back in first trailer for Disney+ fantasy reboot

'Percy Jackson and the Olympians' are back in first trailer for Disney+ fantasy reboot,Disney+ gets downright divine in the first teaser trailer for its small screen adaptation of Rick Riordan's best-selling Percy Jackson novels. While less than a minute-long, the footage — which debuted at D23 Expo this past weekend — does give us our very first look at Camp Half-Blood, the safe haven for the children of Greek deities.

Tags: Disney Plus Disney+ Fantasy News Percy Jackson Rick Riordan Streaming SYFY Official Site SYFY WIRE Blog Post syfy.com SYFYWIRE Television trailers TV

What local asset managers are buying – and selling – in this tough market | Business

What local asset managers are buying - and selling - in this tough market | Business,Some local asset managers are offloading high-performing stocks in anticipation of tough times. They are returning to safe havens like bonds, gold, and resilient companies.

Tags: allan gray asset managers Business equities investments news24.com ninety one old mutual investment group

Justice Jackson reports flowers from Oprah, designer clothing as Thomas delays filing disclosure

Justice Jackson reports flowers from Oprah, designer clothing as Thomas delays filing disclosure,Justice Ketanji Brown Jackson has disclosed that she received a $1,200 congratulatory floral display from Oprah Winfrey and $6,580 in designer clothing for a magazine photo shoot in her first months as the first Black woman on the Supreme Court

Tags: abcnews.go.com Black people Children Courts Entertainment General news Keycat Keytags Politics Washington news

New Controversial Meet and Greet Coming To Disney World

New Controversial Meet and Greet Coming To Disney World,Love him or hate him, Figment is soon coming to Disney World to meet and greet with Guests. Get the details here.

Tags: Disney Disney Parks Disney World Keycat Keytags theblast.com Walt Disney World

Rumer Willis Says She Broke Her Own Water While Giving Birth, And I Honestly Didn't Even Know You Could Do That

Rumer Willis Says She Broke Her Own Water While Giving Birth, And I Honestly Didn't Even Know You Could Do That,"I think there's a photo of me, and I just have this look of shock and surprise on my face."

Tags: buzzfeed.com freelance bfdc freelance popculture Keycat Keytags timely

As Smoke Fills the Sky, Google's New AI Gives Wildly Inaccurate Info on Air Quality

As Smoke Fills the Sky, Google's New AI Gives Wildly Inaccurate Info on Air Quality,Asked to provide accurate air quality index (AQI) information, Google's AI-powered search tool offered incorrect and conflicting answers.

Tags: Artificial Intelligence Futurism futurism.com