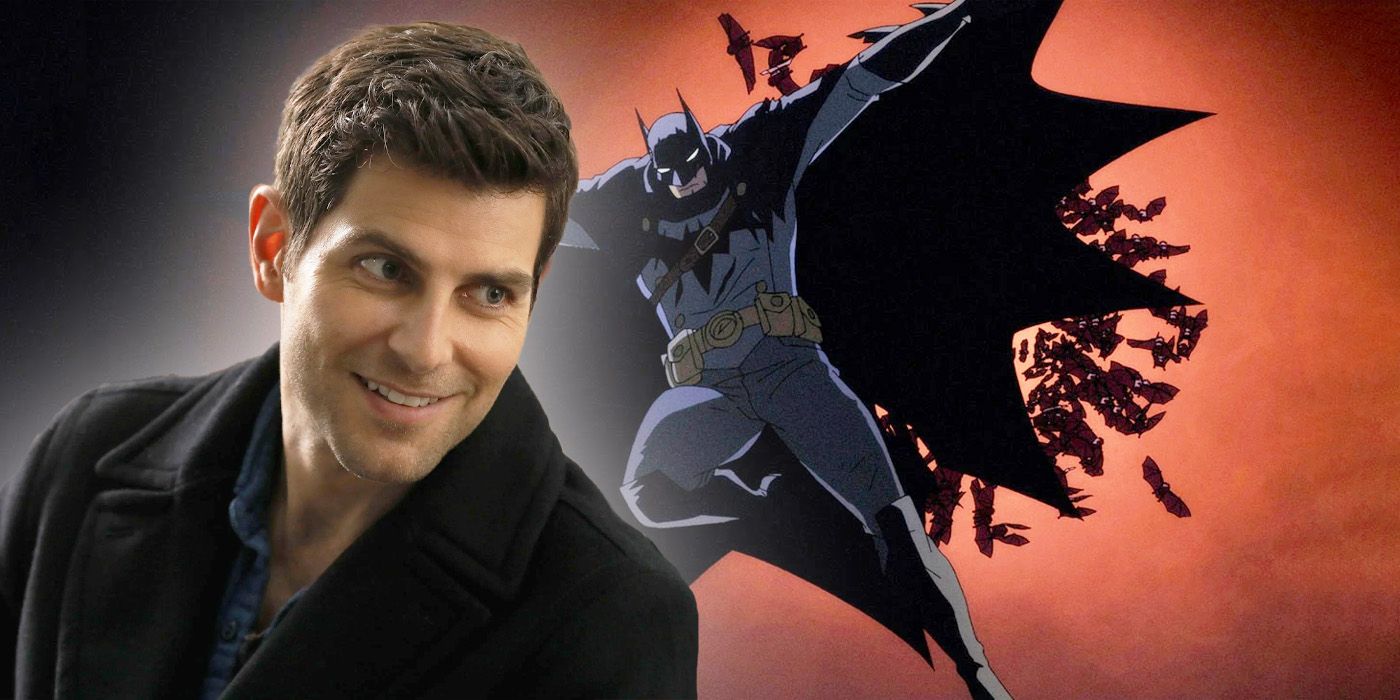 Batman: The Doom That Came to Gotham - David Giuntoli Brings a More Horrific Batman to Life,In an interview with CBR, Batman: The Doom That Came to Gotham star David Giuntoli talked about going bigger and bolder as Batman.
Batman: The Doom That Came to Gotham – David Giuntoli Brings a More Horrific Batman to Life
After starring in 2021's Batman: Soul of the Dragon, fan-favorite actor David Giuntoli returns to the role of Bruce Wayne with a completely different interpretation for the new DC Universe Original Animated Movie, Batman: The Doom That Came to Gotham. Whereas Soul of the Dragon took place in a grindhouse vision of the DC Universe, The Doom That Came to Gotham adapts the Lovecraftian horror story by Mike Mignola, Richard Pace, Troy Nixey and Dennis Janke. Having grown into the role, Giuntoli goes all out for The Doom That Came to Gotham as Bruce faces unspeakable horrors linked to his family and the history of Gotham City that threaten to drive him mad.
CBR VIDEO OF THE DAY SCROLL TO CONTINUE WITH CONTENT
In an exclusive interview with CBR, David Giuntoli shared what he retained and differentiated with his performance as Batman between his two animated movies, reflected on coming into the world of superheroes, and revealed how his household has since made up for lost time as DC Comics became a family affair.
CBR: David, this is a completely different version of Batman from the one you played in Batman: Soul of the Dragon. What did you retain with your performance and what did you change?
David Giuntoli: I hadn't seen Soul of the Dragon before I made it. That's just kind of how it works. I realized that I could go so much farther [than] I could on-screen. That's a lesson that voice actors who come from the screen [learn]. I was so excited to get a second crack at it and go so much farther with my choices. Luckily, this sort of Lovecraftian world allowed me to do that, and it was fun.
This is a Lovecraftian story, and Lovecraftian protagonists often are driven mad by the sheer, unspeakable evil that they witness. At the same time, you're Batman, one of the most stoic heroes ever. How was it balancing those two sensibilities?
Yeah, to be grounded and also completely off. It was something that we had to find. For whatever reason, I didn't equate myself with the comic books when I was a kid and I had seen some Batman in my life, but not a ton. I realized this was going to take various levels between Bruce Wayne, Batman, and the Batman [being] affected by this other world. Luckily, I was working with [producer and co-director] Sam Liu and [voice director] Wes Gleason, and I trust them implicitly. We found it together, and I'm so glad I got to work with them.
This is your second time working with Sam Liu and Wes Gleason. How was it working with them to find your performance?
I'm sure it was hard for them because with my first go-around [we had] to find each other's workflow. It was much easier the second go-around and it was really nice. We understood the dynamic much better and I just trusted them even more. I just consider myself very fortunate to get [another chance] at it.
The last time we spoke, you mentioned that you saw Batman as someone mired in anger. Was it a matter of refining that approach from Soul of the Dragon for The Doom That Came to Gotham?
The Bruce Wayne/Batman that I knew about growing up was not the Bruce Wayne/Batman that I've been voicing in these movies. This stage of his life is much earlier [in the] timeline than what seeped into my life as a consumer of media. He is mired in anger and I think I stand by that, but in these two films, it's a fresher version of him. I can't say that Bruce Wayne was ever innocent. I think that he's a darker hero [morphed] from extreme pain and suffering. [That's] why I think so many people relate to him early in his life.
That said, he's developing in these movies. The coolest thing about [The Doom That Came to Gotham] is that we meet him after he's been traveling the globe, acquiring skills, finding himself and using these skills [as Batman]. I think that's the coolest thing in the world! He's not some bright-eyed, bushy-tailed creature, but he's not the Batman that so [many] of us are acquainted with.
Looking at your career, you haven't done much straight-up horror — Grimm was more dark fantasy. How was it approaching the raw potential of horror in this film?
It was so fun! Technically speaking, just vocal-wise, you've got Bruce Wayne and Batman, who's another gear of darkness. Then with [the] horror, there was a third gear in this particular movie of Batman under the spell of some dark realm. I have to go as deep and gruff as possible I have to sound like I ate 10 cigars. [Laughs] It was a whole different thing for me.
My voice wasn't injured by it, but for the rest of the day, I went home to my wife, and she went, "What in the world is going on? You sound like you just murdered someone and ate them. What happened?!" I would say, "Baby, you have no idea what I've been up to for the past seven hours." [Laughs]
I was talking to your wife Bitsie Tulloch last week about the return of Superman & Lois. How is it going from someone who didn't grow up with comics to becoming a major DC household, with you as Batman and her as Lois Lane?
It's so funny, man. I'll joke with Tyler Hoechlin — Bitsie, Tyler and I are all tight, of course Bitsie and I are tight, she's my wife! I'll joke with him, "Hey, Superman is pretty sexy, but you know what's even sexier? Batman! By far!" We rib each other a bit with that. Yeah, I didn't really grow up with comic books. I don't know if Bitsie did. She grew up overseas, so she doesn't understand some of the more mainstream references with our culture that I grew up with. Our daughter, who is only four, understands that her Mommy is Lois Lane and her Daddy is Batman sometimes.
In L.A., we live close to this ice cream shop and [a] bookstore. My daughter and I will go hand-in-hand to get ice cream, and then we'll go to this bookstore that has a bunch of used comic books. She'll gravitate towards [them], and she tries to find Batman and Lois Lane. I inevitably have to buy one and rip out the most violent pages. [Laughs] We are raising [a] little comic book fan now. [It's] very unlike Mommy and Daddy, but it's fun to watch. It's what she wants to read all the time.
David, now that Batman: The Doom That Came to Gotham is ready to be released, what are you most proud of about this project?
I always get nervous before I do a project. I always want to do better. I am really proud of being introduced to it through Soul of the Dragon and really being a fan of it by the time that I did The Doom That Came to Gotham. What I'm most proud of is that I'vet fully immersed myself. I came into the first one new, and the second one as a fan. I gave my best working with some of the best people. Sam and Wes are phenomenal, and I got maybe two more words in my obituary — "Worst Batman." So that's fun. [Laughs]
Directed by Sam Liu and Christopher Berkeley, Batman: The Doom That Came to Gotham is on sale March 28 on 4K UHD, Blu-ray and digital HD.