Jar Jar Actor Ahmed Best Thanks Star Wars Fans for Sticking With Him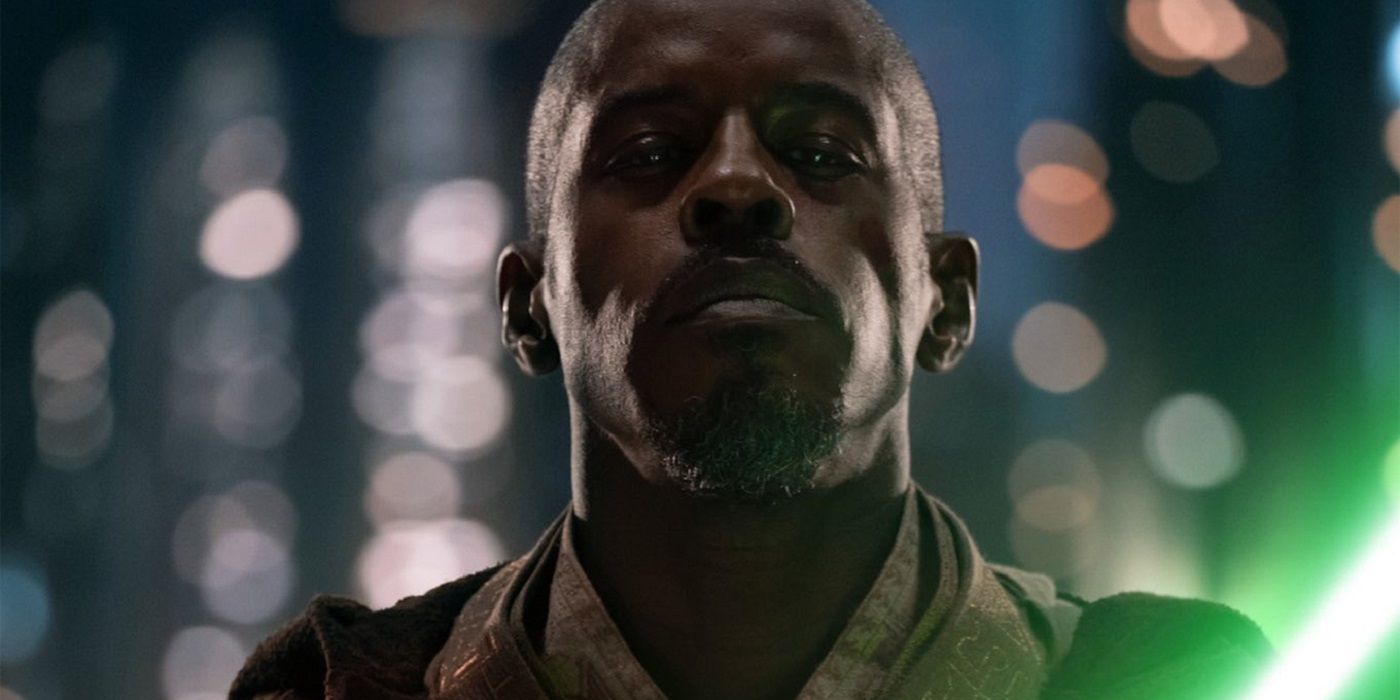 Jar Jar Actor Ahmed Best Thanks Star Wars Fans for Sticking With Him,Ahmed Best's Jedi Kelleran Beq's appearance on The Mandalorian has proven popular with Star Wars fans, and the actor thanks them for their support.
Jar Jar Actor Ahmed Best Thanks Star Wars Fans for Sticking With Him
The following article contains spoilers for the latest episode of The Mandalorian, "Chapter 20: The Foundling," now streaming on Disney+.
Star Wars actor Ahmed Best, who's seen a resurgence in his fame with his recent appearance on The Mandalorian, has expressed gratitude to the fans who hadn't given up on him.
"Star Wars fans on social media, thank you so much for everybody who ever rocked with me!" Best said in a video posted on the franchise's Twitter page. "I am more of a fan than I am a person in these movies, and I have always been and always will be."
CBR VIDEO OF THE DAY SCROLL TO CONTINUE WITH CONTENT
Best appeared on the latest episode of the Disney+ series, "Chapter 20: The Foundling" as Jedi Knight Kelleran Beq. Beq is seen in a flashback sequence taking place at the onset of Order 66, rescuing the foundling Grogu from clone troopers acting on self-appointed Emperor Palpatine's command, massacring every Jedi on sight. The sequence revealed exactly how Grogu survived the purge, and who served as his rescuer.
"I get just as excited when every new Star Wars thing drops," Best said. "When people show up on stage at Celebration, and I'm more of a Star Wars news junkie than anything else, so I'm right there with you, thank you! And let's keep loving this thing."
Kelleran Beq Sees Far More Love Than Jar Jar Binks
Best, of course, is most famously known for his role as the exiled Gungan Jar Jar Binks, introduced and featured most prominently in 1999's Star Wars: The Phantom Menace. Fans were divided regarding their feelings for the character, with many unhappy with Jar Jar's goofy antics and extent of his role in the film. The character appeared in the prequel trilogy's final two movies, but in a greatly diminished capacity.
Best also voiced Jar Jar's character in various episodes of the Star Wars: The Clone Wars animated series.
Across social media, Star Wars fans praised Best and his new role as Grogu's savior, though, with fans expressing their excitement over the actor getting another chance to be involved in the franchise with a new and redemptive role.
Played by Best, Kelleran Beq first appeared on the Best-hosted Star Wars: Jedi Temple Challenge, a game show targeting younger fans. The show launched in 2020. Whether Beq will appear again in The Mandalorian, or elsewhere, is unknown.
New episodes of The Mandalorian air Wednesdays on Disney+.
Source: Twitter
Related News & Content
Deicorp launches $310m tower at Rhodes

Deicorp launches $310m tower at Rhodes,Deicorp says the mixed-use development will have 213 apartments, a three-storey basement and 3782 square metres of retail and commercial space.

Tags: Commercial property finance Commercial Real Estate companies NSW residential property smh.com.au Sydney The Sydney Morning Herald

'At 49, I have just bought my first bus pass': How Shelly is tightening her belt amid rising cost of living

'At 49, I have just bought my first bus pass': How Shelly is tightening her belt amid rising cost of living,TV host Shelly Horton shares how she is budgeting to manage household expenses during the cost of living cr...

Tags: 9HoneyAU Budget Cost of living latest nine.com.au Shelly Horton

Nine adds former captain to Ashes commentary line-up

Nine adds former captain to Ashes commentary line-up,Nine has added a former Australia captain to its commentary line-up for the highly anticipated upcoming As...

Tags: Aaron Finch Australia cricket cat1 Cricket Ian Healy Mark Taylor nine.com.au The Ashes WWOS9

Michael Keaton returns as Batman after 30 years in new The Flash footage

Michael Keaton returns as Batman after 30 years in new The Flash footage,Michael Keaton is back as Batman after three decades in a new clip of the Batcave from the upcoming The Flash movie.

Tags: autoplay video Batman Express.co.uk Films Michael Keaton The Flash

Tears of the Kingdom: How to Separate Fused Weapons (Without Destroying Them)

Tears of the Kingdom: How to Separate Fused Weapons (Without Destroying Them),Separating Fused weapons and shields in Tears of the Kingdom is as simple as visiting a fan-favorite location from Breath of the Wild.

Tags: CBR cbr.com Games The Legend of Zelda The Legend of Zelda Tears of the Kingdom

Melbourne man abandoned outside hospital after being fatally stabbed

Melbourne man abandoned outside hospital after being fatally stabbed,A 45-year-old man lived for just minutes after he was dropped in the ambulance bay at a hospital in Melbour...

Tags: 9news.com.au Australia Melbourne national stabbing Victoria Victoria Police

US could run out of money to pay all its bills by June 5

US could run out of money to pay all its bills by June 5,US Treasury Secretary Janet Yellen has told Congress that the U.S. could default on its debt obligations by...

Tags: 9news.com.au Finance Joe Biden US politics USA WORLD

How schools are getting kids into class after attendance tumbles to record lows

How schools are getting kids into class after attendance tumbles to record lows,New figures reveal more than 350 public schools had attendance rates fall below 80 per cent in the first two terms of 2022.

Tags: Education For subscribers NSW primary school Schools smh.com.au Sydney The Sydney Morning Herald

Drua cling to finals dream with one-point thriller

Drua cling to finals dream with one-point thriller,What slim hopes the Fijian Drua had coming into the penultimate round have been kept alive with a thrilling...

Tags: cat1 nine.com.au rugby Stan Sport Stan Sport Rugby Super Rugby WWOS9

RUMOR: Deadpool 3 Will Revisit Previous Fox Franchises Including Fantastic Four

RUMOR: Deadpool 3 Will Revisit Previous Fox Franchises Including Fantastic Four,A new rumor suggests Deadpool's third film will see the Merc with the Mouth traversing the multiverse to visit Fox movies like Fantastic Four.

Tags: CBR cbr.com Deadpool 3 (2024) Movie News Movies

Nightwing's Pet Dog Just Got a Costume – and the Power to Speak

Nightwing's Pet Dog Just Got a Costume - and the Power to Speak,Dick Grayson's three-legged pitbull Haley, also known as Bitewing, gets a new costume and the power to speak in DC Comics' Nightwing #98.

Tags: CBR cbr.com Comic News Comics Nightwing

10 Seinen Characters Who Hate Violence

10 Seinen Characters Who Hate Violence,Anime fans might associate seinen with bloody action sequences, but a surprising variety of seinen characters greatly prefer peace.

Tags: Anime CBR cbr.com Lists

Sega's Next Mini Console Should Be the Dreamcast Mini

Sega's Next Mini Console Should Be the Dreamcast Mini,The success of Sega's current mini consoles shows that the Dreamcast could also one day enjoy a second life in a modern miniature form.

Tags: CBR cbr.com Dreamcast Sega Video Games

Texas School District Bans Neil Gaiman Novels, Game of Thrones and More

Texas School District Bans Neil Gaiman Novels, Game of Thrones and More,Texas' Frisco Independent School District has released a list of books banned or restricted in school libraries that features several famous works.

Tags: CBR cbr.com Comic News Comics George R.R. Martin Neil Gaiman

Marvel Just Gave the Winter Soldier a Brand-New Name and Look

Marvel Just Gave the Winter Soldier a Brand-New Name and Look,Bucky Barnes/the Winter Soldier gives himself a new name while donning an entirely different look in Captain America: Sentinel of Liberty #6.

Tags: captain america CBR cbr.com Comic News Comics winter soldier

REVIEW: DC's Stargirl: The Lost Children #1

REVIEW: DC's Stargirl: The Lost Children #1,Stargirl: The Lost Children #1 is congested with gaudy exposition throughout the book as Stargirl finds herself in the mystery of a lifetime.

Tags: CBR CBR Exclusives cbr.com Comic Book Reviews stargirl

REVIEW: Marvel's The Amazing Spider-Man #14

REVIEW: Marvel's The Amazing Spider-Man #14,Zeb Wells and a host of artists tackle the latest and darkest chapter in Ben Reilly's story in The Amazing Spider-Man #14.

Tags: Amazing Spider Man CBR CBR Exclusives cbr.com Comic Book Reviews

DC Gives Jon Kent and Superman a Perfect Coming Out Moment

DC Gives Jon Kent and Superman a Perfect Coming Out Moment,DC's two Men of Steel reunite in Superman: Son of Kal-El #17 as father and son, with Jon Kent finally revealing his sexuality to his father.

Tags: CBR cbr.com Comic News Comics superman son of kal el

Demon Slayer: Shinobu Has Her Sister's Positivity – But Her True Nature Remains

Demon Slayer: Shinobu Has Her Sister's Positivity - But Her True Nature Remains,On the surface, Shinobu is kind, caring, and approachable, but her hatred for demons always finds away to break her calm facade.

Tags: Anime CBR cbr.com Demon Slayer

Michael Caine Had a Serious Request Before Joining The Muppet Christmas Carol

Michael Caine Had a Serious Request Before Joining The Muppet Christmas Carol,The holiday evergreen is beloved for its comedic take on the Dickens classic. It works in part because its human star had a serious request.

Tags: CBR cbr.com Movie Features The Muppets

How the Power Rangers' Biggest Fans Eventually Became Secret Heroes

How the Power Rangers' Biggest Fans Eventually Became Secret Heroes,The Power Rangers' biggest fans took up their own Mighty Morphin mantles to save the world, although no one remembers their big adventure.

Tags: CBR cbr.com Comic Features Mighty Morphin Power Rangers Power Rangers

MultiVersus: How to Play as Looney Tunes' Marvin the Martian

MultiVersus: How to Play as Looney Tunes' Marvin the Martian,Marvin the Martian is an oddball character who is extremely hard to master. Here are a few tips and tricks to help maximize his potential.

Tags: CBR cbr.com Looney Tunes MultiVersus (game) Video Games

MMPR Showcases a Classic Villain's Latest Transformation

MMPR Showcases a Classic Villain's Latest Transformation,The Mighty Morphin Power Rangers' oldest enemy has gone through a vile transformation, and she isn't alone in her latest campaign of terror.

Tags: CBR cbr.com Comic News Comics Mighty Morphin Power Rangers Power Rangers

REVIEW: IDW Publishing's TMNT: The Armageddon Game – The Alliance #1

REVIEW: IDW Publishing's TMNT: The Armageddon Game - The Alliance #1,The latest TMNT: The Armageddon Game tie-in miniseries focuses on Shredder's granddaughter, Karai, who gets some long-overdue character development.

Tags: CBR CBR Exclusives cbr.com Comic Book Reviews teenage mutant ninja turtles (comics)

Glass Onion Trailer Promises Benoit Blanc's Most Compelling Case Ever

Glass Onion Trailer Promises Benoit Blanc's Most Compelling Case Ever,Glass Onion: A Knives Out Mystery trailer teases Benoit Blanc's return as he's presented with his most challenging but compelling case yet.

Tags: CBR cbr.com knives out 2 Movie News Movies

Netflix's Wednesday Being Latine Is Significant – But Not for the Reasons Fans Think

Netflix's Wednesday Being Latine Is Significant - But Not for the Reasons Fans Think,The Addams Family has been cast with mostly Latine actors for Netflix's Wednesday, but its significance goes above and beyond the optics of diversity.

Tags: CBR cbr.com The Addams Family TV TV Features Wednesday

The Winchesters' Season 2 Fate Unsure as The CW Tightens Its Budgetary Belt

The Winchesters' Season 2 Fate Unsure as The CW Tightens Its Budgetary Belt,The future of the popular Supernatural spinoff The Winchesters remains undetermined as The CW's new owner Nexstar begins tightening budgets.

Tags: CBR cbr.com The Winchesters TV TV News

An MCU Theory Has Ultron Starting His Own Secret Invasion

An MCU Theory Has Ultron Starting His Own Secret Invasion,Black Panther: Wakanda Forever teased a potential return to AI. But what if a plan was already in place with Ultron as the mastermind?

Tags: Black Panther Wakanda Forever (2022) CBR cbr.com Movie Features

Fairy Tail's Magic Guilds vs Black Clover's Magic Knight Squads: Who Would Win?

Fairy Tail's Magic Guilds vs Black Clover's Magic Knight Squads: Who Would Win?,In a battle between the magic guilds of Fairy Tail and the Magic Knight squads in Black Clover, the winning group of magic-wielders may surprise you.

Tags: Anime Black Clover CBR cbr.com Fairy Tail

Deadpool Is Going to Give Birth to Carnage's Next Symbiote Hybrid

Deadpool Is Going to Give Birth to Carnage's Next Symbiote Hybrid,Wade Wilson is chosen to become the host of a symbiote which will eventually become a brand-new Carnage hybrid in Marvel's Deadpool #1.

Tags: CBR cbr.com Comic News Comics deadpool

Chainsaw Man vs Demon Slayer: Which Shonen Anime Has the Strongest Monsters?

Chainsaw Man vs Demon Slayer: Which Shonen Anime Has the Strongest Monsters?,Chainsaw Man and Demon Slayer are both "monster hunter" anime featuring devils and demons. One class of monster is much scarier, though.

Tags: Anime CBR cbr.com Chainsaw Man Demon Slayer

REVIEW: Marvel's Star Wars: Hidden Empire #1

REVIEW: Marvel's Star Wars: Hidden Empire #1,Lady Qi'Ra of the crime syndicate Crimson Dawn is on a mission to destroy the Empire, and she has found the perfect weapon -- the Fermata Cage.

Tags: CBR CBR Exclusives cbr.com Comic Book Reviews Star Wars

Titans Has Its First Pregnancy – and [SPOILER] Is Not Happy About It

Titans Has Its First Pregnancy - and [SPOILER] Is Not Happy About It,Titans Season 4, Episode 5, "Inside Man," sees a member of the HBO Max series' titular superhero team fall pregnant under shocking circumstances.

Tags: CBR cbr.com titans (tv) TV News

The Dragon Prince Creators Explain Season 4's Key Scenes & Ending

The Dragon Prince Creators Explain Season 4's Key Scenes & Ending,In an interview with CBR, The Dragon Prince creators Aaron Ehasz and Justin Richmond unpack the shocking twists and turns from Season 4.

Tags: CBR CBR Exclusives cbr.com The Dragon Prince TV Features

Jurassic Park's 'Dinosaur Supervisor' Still Thinks the Meme Is Stupid

Jurassic Park's 'Dinosaur Supervisor' Still Thinks the Meme Is Stupid,Visual effects legend Phil Tippett acknowledges a classic Jurassic Park meme blaming him for dinosaurs wreaking havoc, but he doesn't find it funny.

Tags: CBR cbr.com Jurassic Park Movies

Rogue One Writer Shares an Unused Pitch for an Imperial-Hunting Star Wars Series

Rogue One Writer Shares an Unused Pitch for an Imperial-Hunting Star Wars Series,Rogue One writer Gary Whitta discusses his idea for an Imperial-hunting Star Wars series that would have connected to the beloved sci-fi film.

Tags: CBR cbr.com Rogue One TV News

Knives Out & 9 Other Great Murder Mystery Movies

Knives Out & 9 Other Great Murder Mystery Movies,Beyond Knives Out, the world of murder mystery movies is full of twisty gems.

Tags: CBR cbr.com Knives Out Lists Movies Scream

REVIEW: Marvel's Doctor Strange: Fall Sunrise #1

REVIEW: Marvel's Doctor Strange: Fall Sunrise #1,Strange lands and mysterious enemies beckon the Sorceror Supreme in Tradd Moore's latest Marvel endeavor where art takes precedence over plot.

Tags: CBR CBR Exclusives cbr.com Comic Book Reviews Doctor Strange tradd moore

Disney CEO Bob Iger Expected to Give Creatives More Control Over Projects

Disney CEO Bob Iger Expected to Give Creatives More Control Over Projects,Rolling back changes made by Bob Chapek, Bob Iger's new turn as the CEO of Disney might provide creators with greater liberties.

Tags: CBR cbr.com Disney+ Movie News

Star Trek: Prodigy's Billy Campbell Brings Back the Outrageous Okona

Star Trek: Prodigy's Billy Campbell Brings Back the Outrageous Okona,In an interview with CBR, Billy Campbell talks about reprising his fan-favorite Next Generation character Thadiun Okona for Star Trek: Prodigy.

Tags: CBR CBR Exclusives cbr.com Star Trek Prodigy TV Features

Moment driver fumes at HGV for not letting her merge on dual carriageway – but who is in the wrong?

Moment driver fumes at HGV for not letting her merge on dual carriageway – but who is in the wrong?,THIS is the moment a driver fumes at a HGV for not letting her merge on a dual carriageway – but who was in the wrong? Dashcam footage posted by the lorry driver on TikTok revealed exactly wh…

Tags: Driving mirror.co.uk Motors News Road Laws The Scottish Sun TikTok

Cars collide on empty roundabout – but viewers are divided on who's to blame

Cars collide on empty roundabout - but viewers are divided on who's to blame,A VIDEO revealing the moment two cars smash into each other on an empty roundabout has gone viral on social media – and people are divided on who's actually to blame. The TikTok clip shows a …

Tags: mirror.co.uk Motors News Road Laws The Scottish Sun TikTok

Driver stunned after entire car park slapped with £70 fines

Driver stunned after entire car park slapped with £70 fines,DRIVERS were stunned after a council blunder saw every car in a busy railway station car park slapped with fines. Yellow tickets were posted on all cars parked at High Wycombe station in morning ru…

Tags: Buckinghamshire electric cars mirror.co.uk Parking rules and fines Road Laws The Scottish Sun

Why Are People So Hyped About Seeing the Barbie Movie?

Why Are People So Hyped About Seeing the Barbie Movie?,If you've got your finger on the pulse of upcoming blockbuster releases, there's a good chance you've already heard of Greta Gerwig's Barbie feature film spectacular, slated for release this July. From online buzz around the film's teaser and trailer, to the viral photo filter that transforms anyone into a Barbie character, the movie looks set to

Tags: [db:keycat] [db:keytags] filmthreat.com

A Week After They Spoke Out Against A "Near Catastrophic" NYC Paparazzi Car Chase, Meghan Markle And Prince Harry's Rep Responded To Claims They Exaggerated

A Week After They Spoke Out Against A "Near Catastrophic" NYC Paparazzi Car Chase, Meghan Markle And Prince Harry's Rep Responded To Claims They Exaggerated,Meghan and Harry are hitting back against claims that their previous statement shouldn't be taken too seriously.

Tags: black content buzzfeed.com dib celebs Keycat Keytags timely

Halle Bailey Opened Up About The Importance Of Keeping Her Natural Hair For "The Little Mermaid"

Halle Bailey Opened Up About The Importance Of Keeping Her Natural Hair For "The Little Mermaid","I've had my locs since I was 5, so they're a huge part of who I am."

Tags: black content buzzfeed.com dib celebs geekyfb Keycat Keytags Movies timely womens content

A$AP Rocky Doesn't Let Anyone Mess With Rihanna, And This Video From A Club Honestly Just Proves It

A$AP Rocky Doesn't Let Anyone Mess With Rihanna, And This Video From A Club Honestly Just Proves It,"Y'all act like gentlemen when y'all in our presence."

Tags: black content buzzfeed.com dib celebs freelance bfdc freelance popculture Keycat Keytags timely

I'm a sleep expert – here's my top tip for nodding off faster

I'm a sleep expert - here's my top tip for nodding off faster,A SLEEP expert has shared her top tip for nodding off faster – and the key is distracting your mind. Many of us turn to supposedly tried-and-true methods to get to sleep – like counting…

Tags: Health Health News Health Life Hacks mirror.co.uk sleep The Scottish Sun

Why your Spain holiday is about to get more expensive

Why your Spain holiday is about to get more expensive,IT COULD soon become impossible to bag cheap accommodation in Spanish hot spots such as Majorca and Ibiza due to new laws. The potential price increase is a result of an accommodation shortage in t…

Tags: hotels and motels Ibiza Majorca Money saving News Travel real estate real estate renting and leasing Spain The Sun the-sun.com travel travel type vacation properties

My cheap door frame hack keeps the bugs out of the house – it takes seconds, all you need is a Dollar Tree buy

My cheap door frame hack keeps the bugs out of the house – it takes seconds, all you need is a Dollar Tree buy,A WOMAN has shared the cheap Dollar Tree product that keeps her home bug-free and people are shocked. Viewers took to TikTok to joke about how the internet has taught them all the life skills they …

Tags: computing Dollar Tree humor and satire internet Lifestyle pop culture Real Life social network style and fashion technology and computing The US Sun the-sun.com Tips tricks and life hacks womens clothing womens fashion womens sportswear

The seaside town that's 'Brighton of Ireland' in Hollywood films with great views & food – just 40 minutes from Dublin

The seaside town that's 'Brighton of Ireland' in Hollywood films with great views & food – just 40 minutes from Dublin,A PICTURESQUE Irish seaside town is famous for its features in Hollywood films – and has now been branded the "Brighton of Ireland". But popular day-out destination Bray also boas…

Tags: business and finance Dublin entertainment industry film hollywood industries Ireland Los Angeles movies News Travel The Sun the-sun.com travel Wicklow