This Dissolvable Implant Could Revolutionize Pain Management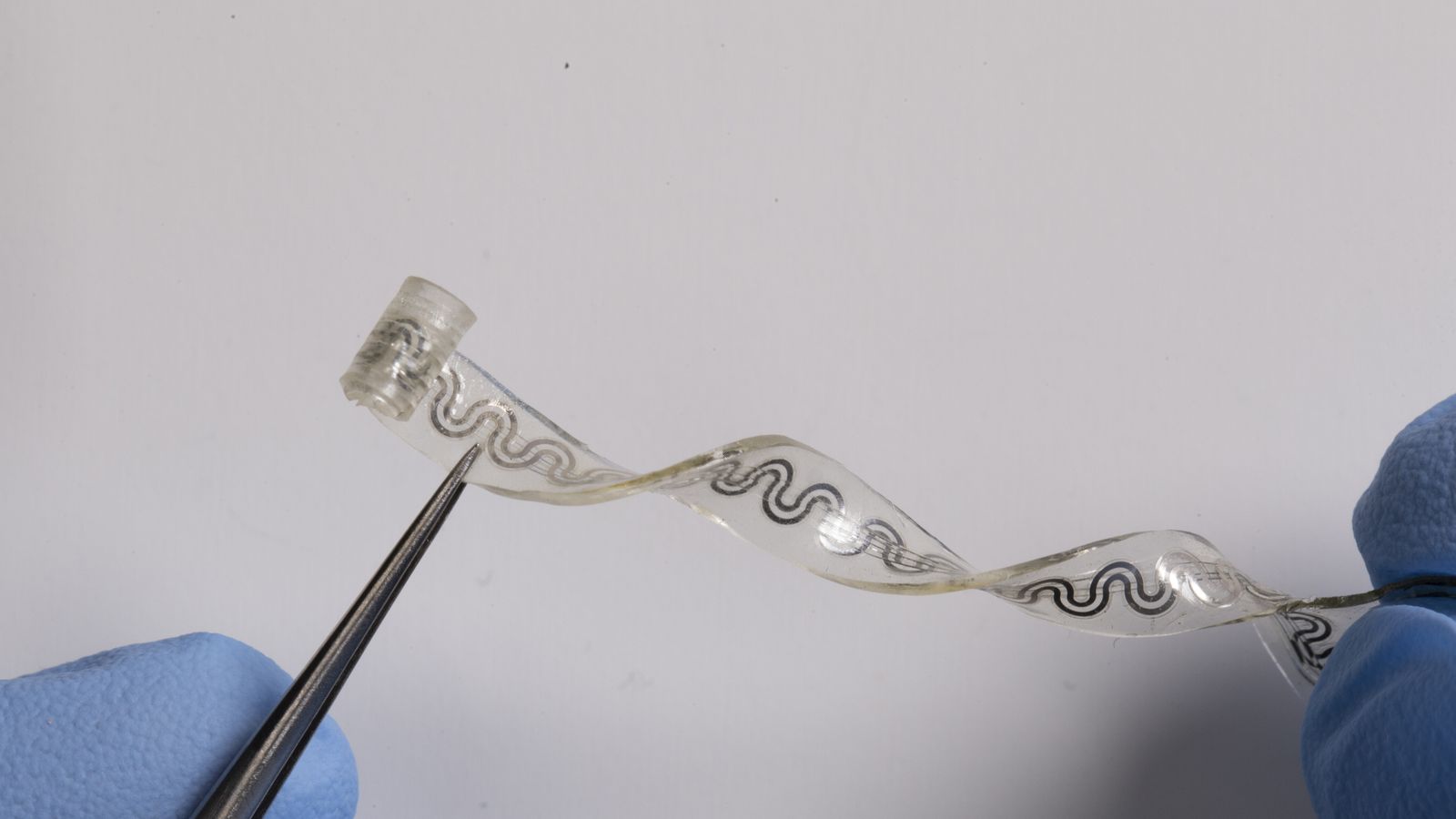 After some success on rats, researchers are hopeful this device could provide humans a more targeted and less addictive alternative to opioids
This Dissolvable Implant Could Revolutionize Pain Management
After some success on rats, researchers are hopeful this device could provide humans a more targeted and less addictive alternative to opioids
Newly identified fossil insect used 360-degree vision and sticky feet to find and snare its meals

With bulging eyes, an elongated mouth and feet that oozed resin, a fossil insect identified by Oregon State University research is so different from

Rosenstiel School of Marine and Atmospheric Science 2021 underwater photo contest winners

Here are the winners of the annual contest organised by the University of Miami

Views on modes of mammalian reproduction being considered primitive challenged

For decades, biologists have considered marsupial reproduction to be more primitive

The Double Life of an American Lake Monster

In the Great Lakes, sea lampreys are a scourge. In Europe, they're an endangered cultural treasure. Can biologists suppress—and save—the species?

Jumping spiders may experience something like REM sleep

If it's an analog of mammalian REM sleep, then it evolved very early.

Cigarette advertising aggressively targets kids in low- and middle-income countries, a new studyfinds

In places around the world that lack restrictions to combat the problem, tobacco companies are using marketing strategies aimed at children, like displaying tobacco products at kids' eye level.

Scientists identify hair loss regulator protein, could be reversible

Researchers at UC Riverside have identified a single protein that seems to control when hair follicles die. Armed with this new information, it might eventually be possible to reverse the process and stimulate hair regrowth.

Could gut bacteria be making you drink more alcohol?

A study has found some compelling associations between gut bacteria and alcohol consumption. Not only is heavy drinking linked to a distinct microbiome profile but the study suggests certain bacteria may be responsible for increased alcohol consumption.

Endangered condor chicks hatch from unfertilized eggs in species first

The California condor is one of the rarest birds in the world, but nature may be giving the species a leg-up. Scientists have found two condor chicks born from unfertilized eggs, in a form of asexual reproduction that's extremely uncommon in birds.

World-first massive MRI study charts brain changes from birth to death

Hundreds of scientists around the globe have shared data to create the world's first brain growth chart. The project incorporated MRI scans from subjects of all ages to offer a unique portrait of how our brains change over the course of a lifetime.

Drug cocktail regrows frog legs in regenerative medicine breakthrough

Animals like axolotls can regrow fully functional replacements for lost limbs. In a breakthrough new study, scientists have demonstrated how one dose of a drug cocktail can regrow lost limbs in frogs that don't normally have regenerative abilities.

Resistance to mosaic disease explained

An international consortium has discovered the gene that produces resistance to the dreaded cassava mosaic disease.

Science Reveals: How Does Your Brain Be Creative?

How can we use knowledge exploration to spark creativity? We must use all of our prior knowledge while trying to come up with a creative idea. But how does this take place in our thoughts and brains? Two semantic memory search mechanisms that are involved in creativity have been uncovered by Emmanu

Scientists Uncover the Biological Causes of Social Withdrawal

Researchers find multiple important biomarkers in people with Hikikomori (pathological social withdrawal), and they demonstrate their potential for predicting the severity of the disorder. Key blood biomarkers for the pathological social withdrawal disorder called Hikikomori have been discovered

How Cancer Spreads: Cancer Cells Can Migrate Toward Certain "Sweet Spot" Environments

Discovery offers insight into how cancer spreads and provides a tool for developing new treatments. Scientists have discovered that cancer cells can gravitate toward certain mechanical "sweet spot" environments, providing new insights into how cancer invades the body. The findings could help scie

How Did Electric Eels Become Electric?

Researchers have discovered how electric fish acquired electric organs. Electric fish, like the electric eel, can distinguish other electric fish by species, sex, and even by an individual thanks to their electric organs, which also allow them to transmit and receive messages analogous to bird song

The insect brain: we froze ants and beetles to learn how they remember their wayhome

Insects such as ants and beetles use ingenious processes in their brains to work out how far they've travelled and in what direction - we've now discovered how they remember their way home.

Researchers Turn Dead Spiders Into 'Necrobotic' Grippers

See how engineers at Rice University transformed wolf spiders into necrobots.

Common weed may be 'super plant' that holds key to drought-resistant crops

New Haven, Conn. — A common weed harbors important clues about how to create drought resistant crops in a world beset by climate change. Yale

Access to safer supply rapidly increased during Covid: study

The number of programs and prescribers offering safer supply to reduce risk of overdose increased dramatically in the early days of the COVID-19

'The best option is always to quit smoking'

The Food and Drug Administration (FDA) recently announced plans to require tobacco companies to cut the amount of nicotine in traditional cigarettes

Wave of Opioid Overdoses Expected to Hit U.S. Rural, Urban Areas

Researchers say the coming wave of opioid overdoses "will be worse than ever seen before."

Auroralumina attenboroughii is the oldest known animal to prey on another species

The findings push back the dates for the evolution of complex life on the planet

No Uncontaminated Habitat Left for 6 New Endangered Species of Frogs: Expert

Human overpopulation and agricultural practices are endangering the tiny amphibians, according to biologist Eric Smith.

Yellowstone National Park celebrates 150 years

Yellowstone, at 2.2 million acres, was America's first national park.

Restoration of pig organs after heart stopped raises hopes for transplants

Findings point to improvements in organ transplants and raise questions over nature of death

This Stamp-Sized Ultrasound Patch Can Image Internal Organs

Getting a scan usually means a visit to a doctor and some giant equipment. What if that gear was wearable?

Moths Are the Unsung Heroes of Pollination

New research suggests the insects play a more important role in pollinating red clover than scientists previously thought

With help from BA.5, new COVID hospitalizations quadrupled since April

More people are getting seriously ill as BA.5 floods country and protection wanes.

Genetically engineered rice needs less fertilizer, makes more food

The change coupled enhanced photosynthesis with improved nitrogen use.

Human eggs have a 'standby battery mode' that allows them to last decades

Human oocytes can last for up to 50 years—and a newly discovered metabolic pathway is key to this longevity.

Pigs died after heart attacks. Scientists brought their cells back to life.

Six hours after the pigs had died, Yale researchers recorded signs of oxygen recirculating into the animals' tissues.

Pig Cells Revived an Hour After Death, Can this be Done on Humans?

An hour after a pig's death, scientists were able to resuscitate its cells, marking a possible advance in organ transplantation. The technology could one day be used for human organs.

CRISPR-edited hamsters exhibit unexpected social behavior changes

The biology behind social behavior may be more complex than we thought. Researchers have used CRISPR to block a certain neurochemical signaling pathway in hamsters, and found that the animals' social behaviors changed in unexpected ways.

RNA "evolution" breakthrough offers new clues on the origins of life

Researchers at the University of Tokyo have created an RNA molecule that can not just replicate, but "evolve" into a diverse range of more complex molecules. This find could plug a major gap in the puzzle of how life on Earth began.

Study argues insects feel pain, raises questions around ethical farming

A new review article suggests insects have the capacity to experience pain. The research summarizes the latest behavioral and molecular science and concludes pain states in insects could have ethical implications for current farming practices.

Cheating Death: Yale Scientists Restore Cell, Organ Function in Pigs After Death

Yale-developed technology restores cell and organ function in pigs after death, a potential organ transplant breakthrough. Within just minutes of the final heartbeat, a cascade of biochemical events triggered by a lack of blood flow, nutrients, and oxygen begins to destroy a body's cells and orga

Without Egg, Sperm or Womb: Synthetic Embryo Models May Enable Growing Organs for Transplantation

Without Egg, Sperm or Womb: Synthetic Mouse Embryo Models Created Solely from Stem Cells An egg meets a sperm – that's a necessary first step in life's beginnings. In embryonic development research, it's also a common first step. However, in a new study published on August 1, 2022, in the journal C

The Pigs Died. Then Scientists Revived Their Cells

A new system for keeping body tissues functional after death could help make more organs available for transplant.

Could gut bacteria be making you drink more alcohol?

A study has found some compelling associations between gut bacteria and alcohol consumption. Not only is heavy drinking linked to a distinct microbiome profile but the study suggests certain bacteria may be responsible for increased alcohol consumption.

Crustaceans found to fertilize seaweed like bees pollinate plants

It has long been known that insects such as bees help plants reproduce, by spreading pollen from one plant to another. Now, however, a similar arrangement has been discovered in the undersea world – involving red algae and tiny crustaceans.

Trailer for Hulu's Romantic Comedy Action Thriller WEDDING SEASON Starring Rosa Salazar — GeekTyrant

Alita: Battle Angel star Rosa Salazar stars in a crazy-looking new series for Hulu, titled Wedding Season , and it's a romantic comedy action thriller. She plays Katie, and she finds herself on the run with Stefan ( Gavin Drea ) after he tries

The 'Kobe Bryant's championship teammates' quiz

Can you name every player to win a championship with Kobe Bryant? Take this Lakers quiz! New quizzes emailed daily. The post The 'Kobe Bryant's championship teammates' quiz appeared first on TrendRadars.

Heat 2 Co-Author Meg Gardiner On Writing The Epic Crime Saga [Interview]

Meg Gardiner tells us about working with Michael Mann to craft this prequel/sequel to his 1995 crime movie classic, The post Heat 2 Co-Author Meg Gardiner On Writing The Epic Crime Saga [Interview] appeared first on TrendRadars.

Energy bills crisis puts lives at risk – the government must act, says Martin Lewis

Energy bills crisis puts lives at risk – the government must act, says Martin Lewis SOARING energy bills are turning into a Covid-scale national crisis and putting lives at risk, a consumer champion claims. Martin Lewis said its advance was akin to

Robin Williams' Kids Remember Late Actor in Loving Tributes 8 Years After His Death

Robin Williams' children are honoring the late comedian eight years after his death. Thursday, the Mrs. Doubtfire actor's 39-year-old son, Zak Williams, took to social media to share a photo of his father as he reflected back on his legacy of kindnes

Atlas

Your world, rendered by National Geographic cartographers The post Atlas first appeared on Science Radars.

Dane Cook, 45, Is Dating Musician Kelsi Taylor, 19

Dane Cook, 45, Is Dating Musician Kelsi Taylor, 19 Dane Cook is gushing over his girlfriend, musician Kelsi Taylor, in a new Instagram post! The 45-year-old comedian has been pretty open about his relationship…

Phoebe Bridgers Defamation Lawsuit Likely To Win After Judge Said THIS

Phoebe Bridgers appeared in a recent court hearing for a defamation trial against her filed by a studio owner in September 2021.#PhoebeBridgers

Madonna Reveals She 'Worships' THIS Artist, Wants To Collaborate With Him

Madonna revealed in an interview that she wanted to collaborate with Kendrick Lamar and she 'worships' him more than anything in life.#Madonna #JimmyFallon

Heroscape, the beloved hex-based battle game, is back with a new starter set

Heroscape, the beloved collectible skirmish game is back in all its glory — including those giant hex-shaped tiles. Avalon Hill teased the release of HeroScape: Age of Annhilation at this year's Gen Con.

The 14 Most Powerful MCU Weapons, Ranked

The Panther's Habit. The Ten Rings. Mjolnir. You know their names — now, find out what the most powerful weapon in the Marvel Cinematic Universe really is.

'The Bachelorette' 2022: Top 11 Contestants Revealed (6 Men Gabby & 5 Men for Rachel)

'The Bachelorette' 2022: Top 11 Contestants Revealed (6 Men Gabby & 5 Men for Rachel) There are now 11 contestants remaining on The Bachelorette, which means that there is an unequal amount of men for each woman. Gabby Windey and Rachel Recchia…

Fox News Anchor Uma Pemmaraju Dies at Age 64 — Details on Her Cause of Death

What was Fox News anchor Uma Pemmaraju cause of death? Reports confirm that the Indian-American news anchor has died at age 64.

YG and a Seemingly Pregnant Brittany Renner Strike a Cozy Pose for the Cover Art of "Toxic"

Is Brittany Renner pregnant? Brittany Renner could be expecting YG's baby — but is she? Inside the latest mystery dividing the internet.

The '1,000 receiving yards as a rookie' quiz

Can you name every NFL player to have 1,000 or more receiving yards in their rookie season? Take this Bengals quiz! New quizzes emailed daily.

Secret Headquarters works best when Owen Wilson is a dad, not a superhero

Owen Wilson and Walker Scobell lead a charming kid-tailored superhero movie. Out on Paramount Plus on Aug. 12.